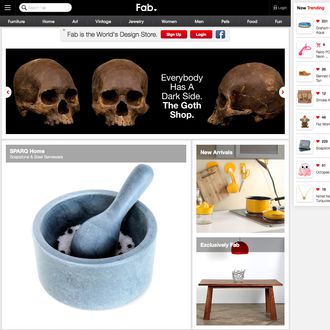 Start-ups are known for their unorthodox workplace cultures — you've got your Facebook hackathons, your Google vegetable gardens, your Zyngabago. But Fab.com, the New York–based upscale home goods start-up, is taking it to the next level, weirdness-wise.
Today, Bloomberg explores some of the rules governing life at the fast-growing Fab. "We aim to be a learning organization," says Jason Goldberg, the company's CEO. Here are six things Goldberg expects his Fab employees (Fabbers? Fabistas?) to learn, or else.
1. There's a coat room for a reason.
Among Goldberg's ways of keeping Fab's headquarters suitably stylish is "barring employees from hanging their jackets over their chairs."
2. If you use Comic Sans, you might as well be typing your resignation letter.
"The company's attention to detail extends to its Manhattan office, where employees are asked to send e-mails in a certain font, use high-quality paper and always 'be Fab.'"
3. No smelly foods allowed, lest you screw up the boardroom's aromatic notes.
This isn't actually a rule, but it should be: Fab's West Village headquaters contains "one conference room with scratch-and-sniff banana wallpaper and another made of removable blocks that employees can sit on."
4. Avoid using the model apartment for cooking demonstrations, arts and crafts, or hanky-panky with your office fling.
According to Bloomberg, "One e-mail to the New York office from Goldberg on Dec. 6 asked for a confession from whichever employee left a mess in Fab's model apartment —  a showcase for its products within the company's 47,000-square-foot workplace. 'Don't confess and we find out it's you and you will be fired. Period,' he wrote. He promised a $100 Fab gift card in exchange for a confession."
5. No hiding, uggos.

Fab is not a place for people who are ashamed of how they look. "Goldberg told employees they were required to have a photo uploaded to the 'team' page on Fab.com 'in order to be eligible for the next company pay period. No exceptions.'"
6. Amateur Vanna Whites can show themselves the door.

"An e-mail on Oct. 11 from Shellhammer, who serves as chief design officer, forbids people from modeling Fab's products. Employees had been inserting themselves into shots of the company's wares posted on its website. 'If you have time to model, you have time to get fired,' Shellhammer wrote."
To be fair to Fab, something the company is doing is working — though not profitable, it currently has a valuation in the $1 billion neighborhood. Maybe it's Goldberg's self-described "sass" and "hard-driving" leadership. Or maybe it's the font thing. Either way, they're hiring!