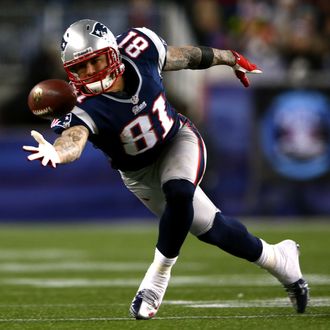 Whether or not New England Patriots tight end Aaron Hernandez shot and killed Dorchester man Odin Lloyd — who turned up with a bullet to the head near Hernandez's home after the pair were seen together — he's not doing himself any favors. According to law enforcement, which issued an arrest warrant for Hernandez on obstruction of justice charges, the NFL star has, so far:
1. Hired a cleaning service to wipe down his mansion on Monday, the day Lloyd's body was discovered.
2. "Destroyed his home security system," which included video surveillance.
3. Turned over his cell phone to investigators smashed "in pieces."
Hernandez has not been ruled out as a murder suspect and could eventually face upgraded charges. While he initially was cooperative with the investigation, he stopped talking to police after hiring lawyers.
Lloyd, a semi-pro football player, was an acquaintance of the 23-year-old Hernandez, and was reportedly dating his fiancée's sister. The athletes were seen on video together early Monday morning, according to the Boston Globe. Lloyd's body was later discovered in an industrial park about half-a-mile from where Hernandez lives.
To complicate matters, Hernandez is also facing a lawsuit in Florida from a man who claims the Patriot shot him after an altercation at a strip club in February. Hernandez allegedly pointed a gun at the guy and fired, possibly by accident, hitting him in the arm and, because the bullet traveled to the head, leaving him without one eye.