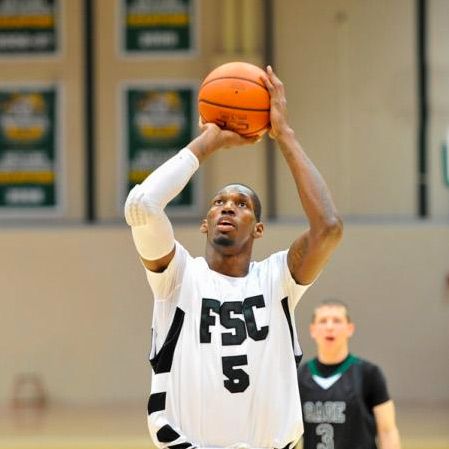 A.J. Matthews.
Photo: Courtesy of Farmingdale State
It had been a successful December for Arn Tellem. During the final month of 2001, the influential sports agent had negotiated a $120 million contract for Jason Giambi, ensuring the New York Yankees landed their top free-agent acquisition that off-season. Lounging in a limo en route to the brawny slugger's introductory press conference, Tellem began to chat with the limo's driver, a man named Chuck Davis, who mentioned his love for the game of basketball during their wide-ranging conversation. As he pulled up to Yankee Stadium, Tellem handed Davis his card and offhandedly said that Davis should give him a call if he ever came across a potential prospect.
It was nearly a decade before Davis called — but when he did, he had a tantalizing tip. He had been mentoring a friend of his son's, a nearly seven-foot center named A.J. Matthews, who was bouncing around the junior college ranks but, in Davis's considered opinion, had NBA-caliber skills.
Tonight, Matthews, Davis, and Leo Melchionni, who works with Tellem and became Matthews's agent, will find out if the NBA agrees. A product of Brooklyn and, most recently, Farmingdale State University, Matthews is hoping to become the first player drafted out of a Division III school since former Laker Devean George in 1999. Though he's garnered interest from his hometown Knicks and Nets, among other teams, he's still a dark horse. But the story of how he got to this point has made him something of an underground legend at the 2013 NBA Draft. 
Matthews didn't play any form of basketball until his sophomore year at Van Arsdale High School in Williamsburg, when his coach, realizing height can't be taught (Matthews was already well on his way to his current height of six-foot-eleven), coaxed him to join the team midway through his sophomore year. "Coach asked me to play my freshman year, but I didn't want to," Matthews recalled over the phone last weekend. "But he kept asking me, and I thought, I'm going to be [at Van Arsdale] for a few more years, and this man will never stop asking me to play."
Even though Van Arsdale is a lesser school in the PSAL hoops' hierarchy, Matthews became one of the city's shining stars, a mobile big who wreaked defensive havoc and was constantly throwing down alley-oops in the open court. But he didn't think about playing college hoops until his senior year — "My goals were to go to school, get a good education, and have a good time," Matthews recalls — and he didn't know that in order to suit up for a college squad, he needed to take, and do reasonably well on, the SATs.
"I just thought it was a regular test," Matthews says of the SATs. "College coaches would ask how I did on my SATs, and I wouldn't pay it any mind. I wasn't concentrating on it." And nobody was pushing him in the right direction.
"My school was terrible — there were metal detectors everywhere — and not only did no one on my team plan to play after high school," Matthews said, "but there was not one kid in there that was going [to college]. I thought if college happened, it happened."
Several Division I programs, including UMass and St. John's, were interested in Matthews during his senior season in 2007, but lacking the scholastic qualifications to suit up, Matthews spent the next four years bouncing from a prep school to four different junior colleges.
However, after averaging a double-double in points and rebounds at Broward Community College, Matthews was on the cusp of finally breaking into Division I. His potential intrigued Kansas State and Oklahoma, but he committed to Fairleigh Dickinson (a member of the low-major Northeast Conference) with plans to guide the Knights to their first NCAA tournament appearance since 2005. But Matthews learned he had yet again fallen short of qualifying. Matthews had failed to attain an associate degree, and he didn't have enough transfer credits to play on a Division II team. "I knew I needed to go to college to get to the NBA," Matthews says, "and Division III, and Farmingdale State, was the only place I could play."
Danny Nee, the head coach at the United States Merchant Marine Academy and a former assistant at Ohio, Nebraska, and Duquesne, says he remembers the first time he saw Matthews play. It was a preseason scrimmage, and Nee immediately asked Farmingdale's coach, "Who's the NBA player?" No other frontcourt player could compete with Matthews. Indeed, Matthews went on to lead all Division III players in rebounding last season, averaging more than fourteen per game.
Melchionni says that despite some rawness, Matthews is swathed in potential. "The talent is there — I think A.J. is new to the game and has not been coached or worked with at the highest levels," he says.
Everyone who had coached or seen Matthews in action seems to agree. "How many guys his size also have his skill level?" argues Bob Starkman, Matthews's coach at Broward. "He can handle the ball, he runs like a gazelle, and has God-given height. It's very unique that he ended up at the D-III level."
However, as Matthews has consistently learned, there are still obstacles to becoming the tenth player ever drafted straight from D-III, and potentially the first in the 21st century. Because Matthews took a nontraditional path to the NBA Draft, he needs to gain weight and learn how to use his athleticism to his advantage. "I always tell guys, 'The potential is there, but that means to me you haven't done it yet,'" Nee explains. "It only takes one guy — a general manager or a scout — to get married to A.J. and let him play for a couple of years."
Matthews has been busy since Farmingdale State's season ended this spring. He faced off against potential future pro opponents at the Nets' NBA combine, showcasing that, in his words, "I could play with some of these upper-class guys … which I knew I could before I even got here." He's also participated in predraft workouts with the Nets, Knicks, Bucks, and Wizards. Matthews has spent much of his time at the Williamsburg Community Center, located just a couple of minutes from his home, where he lifts weights and does yoga: "It was the first time I ever did [yoga]," he says. " I am getting stronger, but I still wanted to maintain my flexibility and work my basketball muscles."
Matthews has been going to church to pray that he gets drafted. Although he knows the draft history and realizes teams are wary of selecting a player who hasn't been deemed a "diaper dandy" by Dick Vitale, Matthews firmly believes he belongs in the NBA. "I held my own in the workouts, and no one was backing me down," he says. "But I also know when I make it, I can't depend on someone reaching out to me — I am going to have to work on my own. It starts with me, because coaches are only going to tell you once."
There was a report in early June that the Knicks were contemplating a trade to garner a second-round pick — the team currently only has a first-round selection — and Matthews was rumored to be their target. And while Matthews — who will watch the draft tonight surrounded by his family and close friends, including erstwhile limo driver Chuck Davis and his son Ryan — might hear NBA deputy commissioner Adam Silver call his name, it's more likely that he (or Melchionni) will receive a phone call from one of the teams he's worked out with, inviting him to join their summer league team. It will be another chance to unveil his athleticism and innate defensive timing in front of NBA and European personnel in Las Vegas and, possibly, as his former coach Nee predicted, make some GM swoon.
"The draft is an important night of his life," explains Melchionni, "but whether his name is called or not, he is working toward that second contract. He knows that, is mature enough, and understands that he is running a marathon and not a sprint."