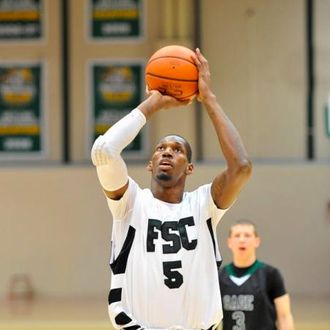 A.J. Matthews.
Photo: Courtesy of Farmingdale State
A.J. Matthews, the six-foot-eleven center from Farmingdale State University who many thought could be the first Division III prospect selected in the NBA draft in over a decade, watched last night's draft between various courses of lobster, clams, mussels, and shrimp surrounded by his family and friends at Joe's Restaurant, an Italian-American spot in Ridgewood, Queens.
"I really thought I would get picked somewhere," says Matthews. "The draft was crazy. There were so many trades that no one even knew about, including me, and I was waiting for [my agent] Lee to call telling me I had been picked."
Matthews wasn't selected in the draft, but he didn't have to wait long for some good news: Matthews's agent texted this morning and told him he was the latest member of the New York Knicks' summer league squad (Matthews had worked out for the Knicks earlier this month).
"I'm happy to play with the Knicks," Matthews told us today. "Now I can show the general managers and coaches that I can play with the Dukes and the Louisvilles. I want to show them they should have picked me."
Matthews and the Knicks will open the 2013 summer league (on July 12) against the New Orleans Pelicans, and the center knows what he needs to do for those eleven days.
"I totally understand why I wasn't drafted — teams had told Lee they felt I wasn't ready for the NBA yet — but I'm not going to settle for less. I am not thinking about overseas, because I am going to do what I got to do with the Knicks, and some team will see [I can help them]."