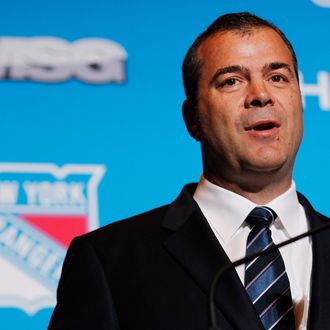 Alain Vigneault.
Photo: Mike Stobe/Getty Images
When a team fires a coach in hopes of achieving different, better results, the new hire is often something of a 180 from his predecessor. So-called "player's coaches" are replaced with hard-asses. Offensive-minded coaches are replaced with defensive gurus. Old-school guys set in their ways are replaced by more progressive thinkers. And so in a lot of ways, when the Rangers introduced Alain Vigneault at a press conference today, who they were really introducing was Not John Tortorella.
This isn't about Tortorella's prickly personality or adversarial relationship with the media — though the Rangers' beat reporters will surely appreciate a change in that area — but about Tortorella's philosophy as a head coach. The "Safe Is Death" style of play that was advertised upon Tortorella's hire eventually morphed into something that involved forechecking and a blue-collar work along the boards, but especially emphasized defensive responsibility and blocking shots with your teeth if that's what a given play required. Ultimately, though, his teams didn't score enough, and attempts to rectify that with changes to the roster didn't succeed (or, at least, didn't succeed enough).
And so there was Glen Sather today, going on about how offense is so important in the modern NHL and how 6–5 games (like the one in Game 4 of the Stanley Cup Final the other night) are "more interesting" than 1–0 games. Perhaps Sather is feeling nostalgic for his days in Edmonton, but that's a strange thing for the GM of a team that employs one of the best goalies in the world, in addition to a handful of stud defensemen, to say. More than anything, it seems to underscore how badly he wants the team to go in a different direction. Is lots of scoring, perhaps at the expense of defense, better? Maybe. But at least it's a different way of approaching things.
Indeed, much was made of Vigneault's fondness for offense, but thankfully he seems to understand that you have to coach the players you have. Tortorella's blue-collar system, for the most part, existed because that style of play made sense given the construction of the roster. Perhaps it's no surprise, then, that it started to fall apart the more it relied on elite offensive players who don't necessarily thrive under such a system. Speaking to reporters, Glen Sather was asked whether Tortorella was stubborn when it came to changing styles. Replied Slats: "Maybe beyond stubborn." But Vigneault explained during his introductory press conference today that when he took over Vancouver, they were more of a defensive-minded team, but they eventually developed into an offensive-minded one when they had the skill level to do so.
It's good that he understands that a coach can only impose a system so much. The Canucks — led by the Sedin twins — could play that style of hockey. But the Rangers won't immediately be able to do the same. Marian Gaborik was shipped off to Columbus, and Brad Richards — brought in to center the top line — may very well get bought out in the off-season. (And even if he isn't, his numbers have been declining.) Rich Nash remains, and perhaps players like Derek Stepan and Ryan Callahan would up their production in a more offensive-minded system, but Vigneault surely understands that the Rangers — as presently constructed — won't immediately become an offensive juggernaut. That's a process, though any process will have to be expedited, considering the team's best chance to win a Cup will be in the next couple of seasons.
The Vigneault hiring, of course, shouldn't be simplified to merely an offense-versus-defense thing. And there were no shortages of ways for Vigneault to distinguish himself from Tortorella today. He and Glen Sather talked, in response to a question, about the possibility of using advanced statistics. Speaking to reporters, he shared some ideas of what makes a power play effective, though it's hard to imagine any change wouldn't be an improvement over what fans saw at the end of last season. And he talked about how coaches need to give latitude to star players. (Said Marian Gaborik, probably: "Great, now they hire a guy like that.")
For all the talk of new philosophies and changes of direction, it didn't hurt that Vigneault was also the safest option to take over when Tortorella was let go. Mark Messier wanted the job, but with no pro coaching experience, he was too big a risk. Lindy Ruff coached a couple of good teams in Buffalo but might be better known for the length of his tenure there than for the results. Dan Bylsma was never actually available; neither was Dave Tippett. Sather said Vigneault was one of thirteen names on the team's list of options, six of whom were interviewed either in person or over the phone. But even if his teams' playoff record is spotty, he's a proven NHL coach who's overseen some very good teams, and the Rangers can't afford to take chances with this hire. His résumé isn't perfect, but he'll do.
Vigneault gave the usual clichés about wanting his team to play the "right way," which he explained actually means a combination of offense and defense. Hopefully that means he won't try to insist on a style of play they can't make work. Vigneault doesn't really know what his team can handle yet. And considering many of the Rangers' young players have only played for one coach, neither do we. Vigneault, for instance, explained that he believes the Rangers' defensemen have the "potential to join the rush a little more," which we'd generally agree with. Under Tortorella, it didn't happen much, but that doesn't mean it can't. It's things like this we'll learn over the course of Vigneault's first season.