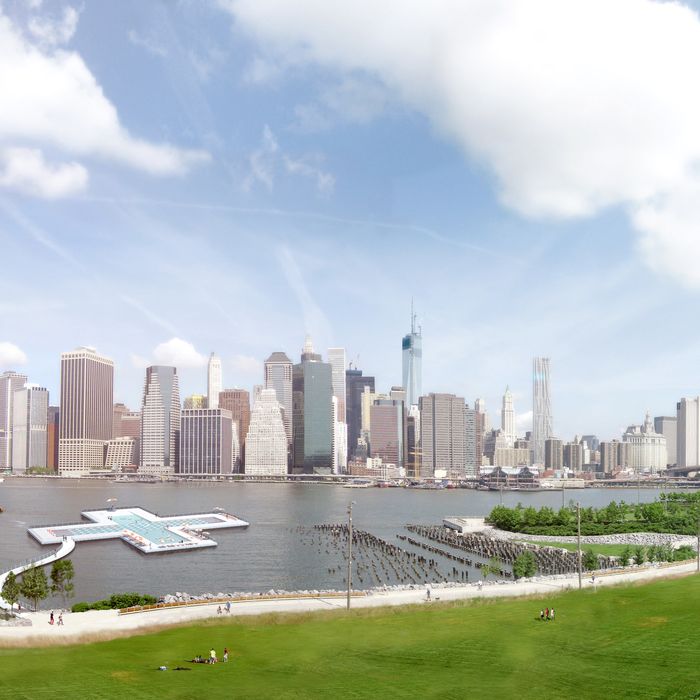 Every New Yorker knows not to swim in the East River — it's disgusting. But it doesn't have to be that way. An extremely ambitious project called + Pool from three NYC designers hopes to change the way we think about nasty river water by plopping down a "giant strainer" that also functions as a 285,000-gallon swimming pool divided into four parts: a kids' pool, a sports pool, a lap pool, and a lounge pool. All they need is about $15 million and approval from the city, but they're starting small, with a $250,000 Kickstarter campaign to create a floating test lab this summer.
The Kickstarter, which has already raised more than $75,000 in two days, is actually the group's second. In 2011, they used the crowd-funding site to collect $41,000 for their first river water filtration test. "It was incredible to see how clean the water got," Dong-Ping Wong, one of the designers, told Daily Intelligencer today. Along with his partners Archie Lee Coates IV and Jeffrey Franklin, Wong wants to keep the momentum going, with their sights on the summer of 2016 for the pool's opening.
The plan is to fund the project by selling engraved pool tiles (starting from $149 for an individual tile): "70,000 tiles that will make up the deck, walls, and floor of the future pool. If every single one is bought, the entire $15 million construction budget of + POOL will be funded from front to back."
But will the city let it happen? "You'll have to ask them," said Wong. "It's always hard to say."
Preliminary meetings with "almost every agency that will have some sort of say on the project" have been "encouraging," he said. "It's like any other large-scale architectural project. There are risks and challenges, and we've tried to be transparent about those." And if they collect the money and then hit a block? "I'd love to say that everybody would get their $150 back, but we've got to keep engineering along the way," said Wong. Still, "I feel more secure about our project than almost any architectural project I've worked on."
Check out the glorious design in the slideshow below.