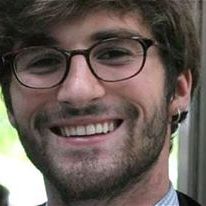 Andrew Driscoll Pochter, a 21-year-old from Maryland who was in Alexandria to teach English to 7- and 8-year-olds as part of a summer internship with a non-profit called AMIDEAST, was killed as Egyptians protesting for and against President Mohamed Morsi took to the streets there on Friday, according to statements released by his family and Kenyon College, where he was a student. The State Department, which advised on Friday against "nonessential travel to Egypt," confirmed the death.
Pochter's family was told he was stabbed in the chest when demonstrators attacked a Muslim Brotherhood office. A family friend told the Washington Post that whether Pochter had purposely gone to watch the protest was unclear, though "he was definitely not a protester." Egyptian officials said Pochter was carrying a camera. "He went to Egypt because he cared profoundly about the Middle East," said his family's statement. "And he planned to live and work there in the pursuit of peace and understanding."
Pochter spent time in Morocco in 2011, when the Arab Spring protests forced Hosni Mubarak to give up the presidency of Egypt, and he reflected on the experience in an article for Al Arabiya News: "By their participation in community protests, members of my host family and friends are trying to reinvent themselves as members of their society and changing how the rest of the world perceives them. By voicing their opinions, they can help shape the true face of this Moroccan generation, not by what the media say," he wrote.
The violence in Alexandria continued on Saturday, and at least two other people were killed. Large anti-Morsi rallies are scheduled across Egypt for Sunday.