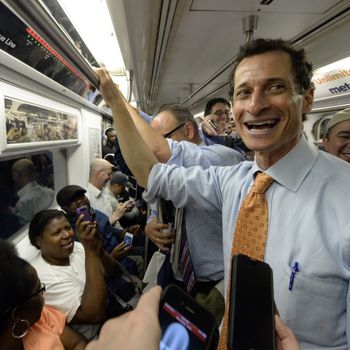 Basking in the glow of fresh poll numbers placing him at the head of the pack of New York City's Democratic mayoral candidates, a rejuvenated Anthony Weiner strode into a forum on housing issues in the East Village about an hour late Tuesday night, ducking in past a scrum of reporters who were less interested in housing policy than they were in him. Blaming the tardy arrival on an accident involving hot tea spilled on his baby son, Jordan — a spokeswoman would later point out that an emergency-room visit had been necessary — Weiner began by begging forgiveness from the feisty but friendly crowd of affordable housing activists crowded into the sweaty pews of the Calvary-St. George Episcopal Church.
He took a seat next to former city comptroller and 2009 Democratic mayoral nominee Bill Thompson, and ably jumped into the substantive discussion of housing policy — he joined the others onstage in arguing that the city needs to expand mandatory inclusionary zoning — before pivoting to broader campaign themes.
"We have to fight for Democratic values," Weiner said after calling for more Section 202 specialized housing units for seniors. "You can't have someone who's sort of standing in the middle going, 'I'm not a Republican, I'm not an Independent,'" he added, a thinly disguised shot at the absent City Council Speaker Christine Quinn, who helped Michael Bloomberg change the law to stay on for a third term and is serving essentially as the hand-picked successor to the billionaire incumbent.
An NBC News/Marist/Wall Street Journal poll released a few hours before the forum gave Weiner a five-point lead over Quinn among registered city Democrats, representing a major swing in his direction since he joined the race last month. Voters appear to be warming up to the guy who has taken up his old mantle as the aggressive outer-borough populist boy a little over two years after getting caught sending explicit photos of himself to several women online. As New York's Chris Smith anticipated, Weiner has owned June, dominating many campaign forums and offering up a steady stream of quotes to hungry reporters, this one included.
"He's obviously been getting a lot of attention, and that's been both good and bad," says Weiner's pollster, Paul Maslin, who has worked on behalf of Howard Dean and Tammy Baldwin. "But he has a voice and people are hearing it, and to me that's everything right now. The guy is going out and talking, and some New Yorkers clearly are responding to it. He's legit. You can't say this isn't a serious candidacy."
Again, early poll numbers such as these are mere snapshots that reflect media coverage and name recognition rather than demographic advantages or sophisticated campaign organization.
On the other hand, Thompson — who garnered 13 percent support in the poll, good enough for third place — surprised many New York political insiders by nearly unseating Bloomberg in 2009, despite having been outspent by more than ten-to-one and left for dead by the city's powerful teachers' union (which is backing him early this time around). That Weiner has not only survived the initial waves of snarky tabloid puns but apparently improved his standing among Democrats and voters at large all the while solidifies this as essentially a three-way contest, with Weiner joining Quinn and Thompson in having a clear path to the runoff after the initial primary vote in September.
"It's a jolt to the system," one veteran New York Democratic operative unaffiliated with any of the campaigns told me of the poll. "There are any number of us who've seen Anthony's run as a fool's errand." Indeed, he has been forced to run a post-professional campaign, as Reid Pillifant helpfully dubbed it, but has been getting by just fine so far without any of the city's best-known or most seasoned political consultants.
Daily Intelligencer asked Weiner after the forum if he expected the strong poll numbers to be borne out given his lack of union support and get-out-the-vote machinery.
"My ambition is to win every union member," he said. "I'm less concerned about organizations and things like that. I don't buy the idea that you take the electorate and you chop it up into little pieces of a pie. I don't believe in the idea that you go out and make a list of which endorsements you want."
And his rivals? "I don't pay much attention to them," Weiner said in response to a question from Capital New York's Azi Paybarah, who moderated the forum.
It's true: Weiner has mostly avoided explosive confrontations with the other candidates and with voters. When asked about those infamous tweets of his crotch or the (possibly worse) racist flyers he used to win his first city council race in 1991, Weiner generally keeps his cool, apologizing earnestly while mixing in some wiseguy defensiveness. For now, vague populist invectives in favor of Gotham's middle class have been good enough to make his mayoral candidacy a credible one. On the other hand, with new evidence that he's a serious contender, his rivals can be expected to begin launching more barbs his way.
For one night, though, the estranged Chuck Schumer protégé was back in his element, the ultimate prize seemingly within reach once again.
"Ladies and gentlemen, if you like the way things are going, don't vote for me," he said at the housing forum. "I can't say milk and honey are gonna flow through the streets of New York if you make me your mayor, but I guarantee you this: No one will work harder for you than I will."