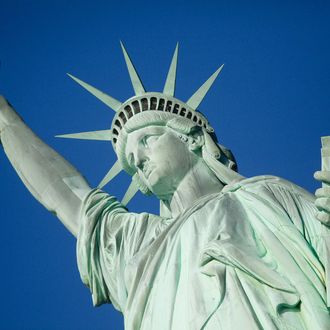 Photo: Michael Nagle/Getty Images
The National Park Service has been trying to move the Statue of Liberty's security operation out of Battery Park for years, and while Hurricane Sandy lent a hand by destroying the tent where tourists were screened, the feds are now back where they started. Last week, Police Commissioner Ray Kelly and Sen. Chuck Schumer declared that the Park Service's plan to conduct screenings after visitors take a ferry to Ellis Island would put New York at "greater risk" of a terrorist attack. Now that idea has been scrapped.
On Monday, Sally Jewell, the secretary of the Interior, notified Mayor Bloomberg that the Park Service will erect what's described as a temporary screening facility in Battery Park — though the structure might be there for years until a permanent solution is reached. This means the statue's July 4 opening won't be delayed again, and officials can keep bickering about who has the smartest plan for protecting the national icon.