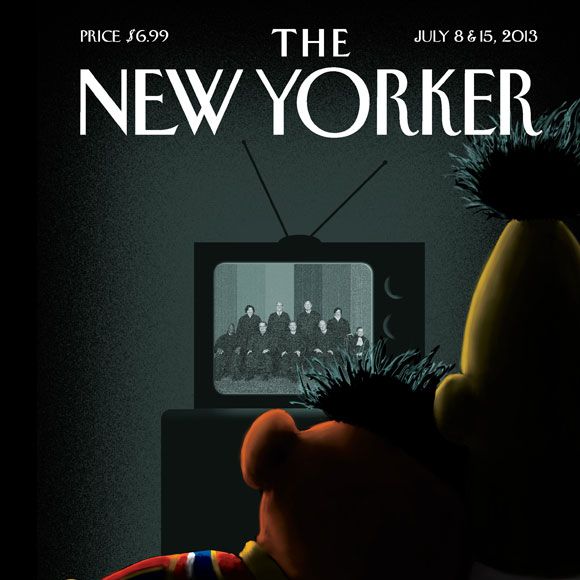 The cover art for next week's New Yorker shows Bert and Ernie — officially asexual roommates but long assumed by many to be secretly gay, as if fictional hand puppets were capable of being anything other than what their script wants them to be — in a sweet embrace as they watch this week's news about the Supreme Court. 
Like all things, it has elicited strong and wildly varied reactions. BuzzFeed and the Huffington Post both call the cover "amazing." But June Thomas at Slate says it's "a terrible way to commemorate a major civil-rights victory for gay and lesbian couples," because Bert and Ernie are not actually gay. And Flavorwire's Tyler Coates contends that the magazine is "belittling the decades-long — hell, millennia-long — fight for equal rights by needlessly sexualizing a pair of puppets."
Coates suggests that The New Yorker could have used a photo of an "actual gay and lesbian couple," perhaps even of Edith Windsor and Thea Spyer, the lesbian couple at the center of the DOMA case. Not only does The New Yorker not put photos of actual people on its covers, but we think this suggestion misses the point.
You could replace Bert and Ernie with a drawing of a famous real-life gay couple, or even an anonymous gay couple whose sexuality is communicated to the reader. But to have a closeted gay couple lends the image deeper meaning: In an intimate moment in the privacy of their home, away from the public eye, they feel heartened that society is finally coming around to accepting them for who they are. 
Because of the inherent nature of closetedness, there aren't many instantly recognizable closeted gay couples out there. Bert and Ernie — as silly as it is to sexualize them — happen to be one of them. That, to us, is why they're on the cover, and why it works.