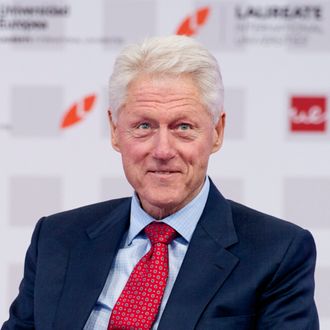 Daydreaming about all that cash.
Photo: Juan Naharro Gimenez/Getty Images
The mammoth speaking fees commanded by Bill (and Hillary) Clinton are nothing new. But Bubba's haul for a June 17 speech at a 90th-birthday event for Israeli president Shimon Peres is double-take-inducing regardless: Clinton will be paid $500,000 for a 45-minute speech, which amounts to $11,111 for every minute of "Well, I'll tell ya, Shimon is a great guy" anecdotes. NBA players have a reputation for being overpaid, but LeBron James is only ("only") earning about $4,600 per minute of playing time this season. The money from the Peres speech, however, will go to the William J. Clinton Foundation, not Clinton personally.