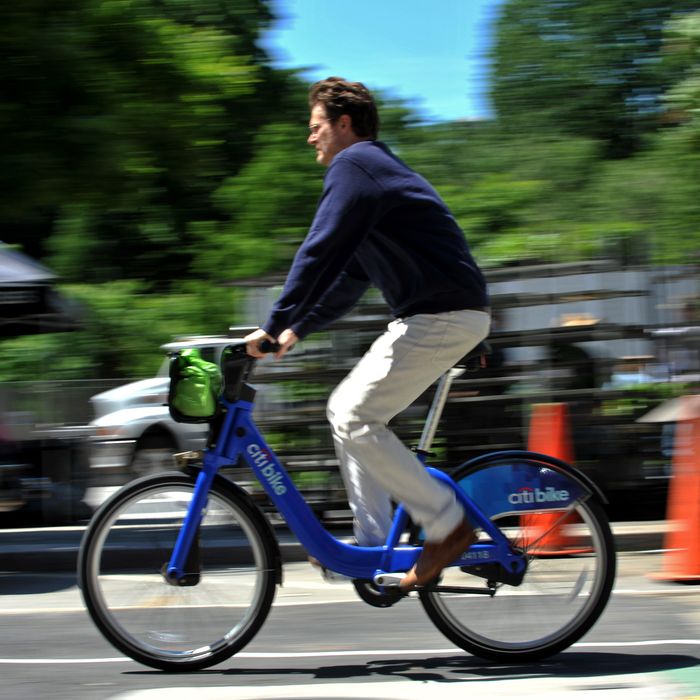 Photo: STAN HONDA/AFP/Getty Images
With the Citi Bike program now open to everyone, spirited opinions continue to pile up on both sides, even from people who have not tried it and never will. Over the weekend, both The Wall Street Journal and New York Times sought wisdom from a distinguished, opinionated staffer and published the result in a wonderfully entertaining video, though the value in each varies. In "Death by Bicycle," Journal editorial board fixture Dorothy Rabinowitz expresses her distaste for the system with some all-time great pearl-clutching, while street-fashion photographer Bill Cunningham, a venerable cyclist himself, is bubbling with joy in his Times take, "Spoke Spinners." They'll both make you laugh, for very different reasons.
"Do not ask me to enter the mind of the totalitarians running this government of the city," Rabinowitz says. "Look, I represent the majority of citizens. The majority of citizens are appalled by what has happened."
She goes on to call the bike share a "dreadful program" and mourns its (admittedly below average) aesthetics. "We now look at a city whose best neighborhoods are begrimed by these blazing blue Citibank bikes," she whines. "It is shocking to see how much of this they have sneaked under the radar in the interest of the environment."
In conclusion, she claims, "The bike lobby is an all-powerful enterprise."
Cunningham, on the other hand, is as charming as ever. "This week, the city started its rent-a-bicycle and it's absolutely wonderful!" he exclaims. "There are bikes everywhere and it's perfect for the New Yorkers who have always been totally impatient."
"What I love, is to see them all on wheels, on their way to work in the morning in their business suits, the women in their office clothes … It has a very humorous and a very practical effect for New Yorkers … I mean, it's wonderful."
The universe is in perfect balance.