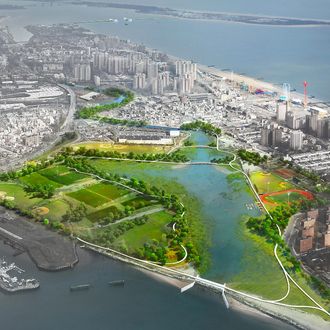 Coney Island wetlands figure in Mayor Bloomberg's waterfront plans.
Photo: nyc.gov
Seven months after Sandy and 200 days before he walks out the door, Mayor Michael Bloomberg has just presented his successor with a massive, 430-page, $20 billion to-do list for how to protect the city against worsening weather. Most such reports slide noiselessly into oblivion, but the future of New York may depend on taking this one seriously. With its sobering maps and statistical scenarios, A Stronger, More Resilient New York is the bureaucratic version of Cassandra's cry. It rests not on an apocalyptic vision but on a set of well-grounded scientific assumptions: (1) sea levels will rise; (2) the city may never get pummeled by another Sandy-like storm, but counting on that is a terrible bet; and (3) if we do nothing, the damage from future storms will keep costing more and more. The best option, the report declares with irrefutable clarity, is to do a little of everything.
Bloomberg might have plumped for the Venice panacea: a set of enormous floodgates that would seal off the entire bay — eventually, maybe, if they never, ever fail. Instead, the report recognizes what Dutch engineers have been hollering for years: New York's 520 miles of fantastically varied coastline need a dizzying array of treatments. Dunes in the Rockaways, levees in South Beach, removable walls on the East Side of Manhattan, hardened power stations, floodwalls, wetlands, bulkheads, esplanades — the proposed treatment varies sometimes block by block. During Sandy, floodwaters encroached through backdoor tidal zones like Newtown Creek, slathering whole neighborhoods in raw sewage. That's where more modest floodgates might work.
The ultimate goal of all these measures is not a dry city, but a resilient one, a New York that can wring itself out after a soaking and get quickly back to work. Far from cowering behind tall barricades or pulling back from the shore, the report goes all out on waterfront development. Battery Park City weathered the storm and also protected its neighbors; the mayor suggests filling the Manhattan side of the East River south of the Brooklyn Bridge and building a new neighborhood there. Seaport City. (See image gallery.)
The strategy is radical; the tactics are familiar. Bloomberg has always tried to ensure his legacy by compiling manuals. Future mayors (or leaders of cities around the world) need only leaf through the handbooks his administration has produced on street design, parks, and zoning to get instruction on what kind of public bench to install or how to surface a curb cut. Bloomberg's position on every vice — guns, cigarettes, soda — comes with a worldwide sales pitch. The anti-hurricane campaign, too, is a data-driven tool to put New York (and therefore Michael Bloomberg) at the forefront of the worldwide debate on adapting to climate change. But this report dispenses with the avuncular, just-do-as-I-do tone and takes on a distinctively local urgency. This, the authors write pleadingly, is a "can-do, must-do, will-do plan." That's as close as Bloomberg comes to begging.