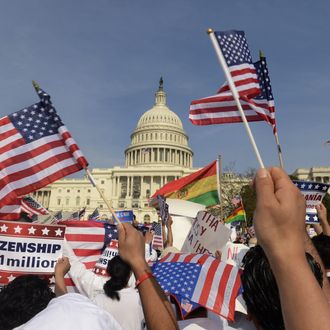 Several thousand people rally in Washington, D.C. to show their support for immigration reform on April 10, 2013.
Photo: MICHAEL REYNOLDS
The Gang of Eight's immigration bill cleared an important hurdle on Monday night, with the Senate voting 67-27 to advance the so-called "border surge" amendment. The procedural vote prevents a filibuster of the plan, which would double the number of border agents to 40,000 and complete 700 miles of fencing on the United States' southern border. Fifteen Republicans joined with the Democrats to pass the measure, raising hopes that the immigration bill can obtain the 70 votes supporters are hoping for.
Six senators missed the vote due to travel delays, including two Democrats who were expected to support the measure. Two absent Republicans, Johnny Isakson and Saxby Chambliss, are seen as swing votes, and while Rob Portman voted against the border surge, it's possible that he could be a "yes" on the final vote. Portman's support for the overall bill hinges on a proposal to improve the accuracy of the E-Verify system, and it's believed that several other Republicans' votes depend on amendments that may be addressed this week.
Some Republicans who voted no complained that Democrats are rushing on the border security amendment while ignoring other GOP proposals in order to meet Majority Leader Harry Reid's goal of holding the final vote before the congressional recess for the Fourth of July. The hope is that a strong bipartisan vote in the Senate will put pressure on the House to pass an immigration bill, preferably before the month-long August recess.
That time frame would allow negotiators to hammer out a final deal by the fall, but passing immigration reform may still be a long shot. As Intelligencer's Jonathan Chait discussed last week, it's not encouraging that liberals already had to compromise on border control. Plus, it seems the immigration bill's success may ultimately depend on John Boehner's willingness to let it come to a vote in the House, even without the support of a majority of Republicans.