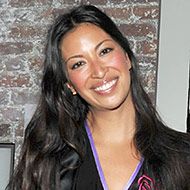 Two-and-a-half years after his girlfriend of six months, Sylvie Cachay, was found dead in a Soho House bathroom, Nicholas Brooks's trial has finally begun. Brooks is accused of strangling and drowning the 33-year-old clothing designer in the early hours of December 9, 2010. Brooks, the son of Oscar-winning songwriter and accused rapist Joseph Brooks (who killed himself in 2010), was 24-years-old and unemployed at the time of Cachay's death. He has pleaded not guilty to murder charges, but prosecutors said on Friday that he killed Cachay in a "violent rage" after one of their frequent arguments.
Among the evidence presented to Manhattan's State Supreme Court in Manhattan was a handwritten to-do list Cachay made for Brooks not long before she died. "Get a job," she wrote. "Hold me after sex and say sweet things … Do not overuse paper towels … Show me that I should be with you … Take me on dates! … No random over drinking or drug use … Every now and then spray bug spray." On the morning before her death, Cachay sent Brooks an e-mail because she was upset he was cheating on her. "Nick, for the past six months I have supported you financially and emotionally," she wrote. "I am speaking with the credit card company and the police and I am going tell them that I never allowed you to use my card. I don't care. Have fun in jail."
The day after, she e-mailed him again: "Why don't you come over and get in bed with me and we can hold each other? Think about it. I love you and just know everything will be alright." Hours later, Soho House employees discovered her body in the overflowing bathtub of the hotel room the couple was sharing after some other guests called to say that water was leaking through their ceiling. Brooks, who had gone out for dinner and drinks, was taken into custody when he returned that morning.
Brooks's lawyer said "that the relationship was so up and down that looking at any message in isolation created a false impression." The defense is expected to argue that Cachay lost consciousness and slipped underwater after overdosing on migraine and fibromyalgia medication.