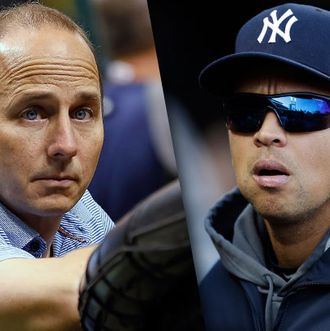 Brian Cashman and Alex Rodriguez.
Photo: Getty Images, Corbis
A few weeks back, Brian Cashman was asked to play some word association with ESPN. When asked about Alex Rodriguez, Cashman responded with "complicated," before adding, "It's kind of like the Clint Eastwood movie The Good, the Bad and the Ugly." It was a very diplomatic answer: Not exactly supportive, but not overly mean. But one gets the sense that Cashman doesn't care about being nice to A-Rod anymore.
Yesterday, the injured Rodriguez (who's been tweeting for about a month, even though most people only realized it this week) sent out a message that he'd gotten the "best news" from Dr. Bryan Kelly, who'd told him he was clear to play in games.
Brian Cashman, though, was furious with A-Rod for sending the tweet. Said the GM to ESPN New York: "You know what, when the Yankees want to announce something, [we will]." Added Cashman: "Alex should just shut the fuck up. That's it. I'm going to call Alex now."
Kelly had performed Rodriguez's surgery and had been approved by the Yankees to oversee A-Rod's recovery in New York, but Cashman explained that Kelly had no jurisdiction in the matter once A-Rod returned to Tampa. Cashman said that A-Rod hadn't yet been cleared by the Yankees' doctors.
A-Rod may very well be one of the least media-savvy athletes on the planet, and we have little doubt his use of Twitter will be an adventure for everyone. But this isn't about A-Rod's tweet, which at worst failed to provide a full report on his status in his 140 available characters. It's about Cashman snapping at him for such a minor sin.
It's hard to imagine Cashman telling Derek Jeter or Mark Teixeira to "shut the fuck up" over something like this (or over anything for that matter). Yes, the Yankees want to control their message, and A-Rod's update makes that harder. But this goes much deeper than a tweet. Maybe Cashman knows what he's doing and is trying to make it seem like A-Rod's made some sort of gaffe in order to put another dent in the third baseman's reputation. But it's almost as if all the frustration with A-Rod — and, more specifically, with A-Rod's contract — has finally gotten to Cashman. He's tried being diplomatic, as team executives often do. But Rodriguez is apparently no longer afforded that kind of respect.
Rodriguez, in case you've forgotten, is signed through 2017.