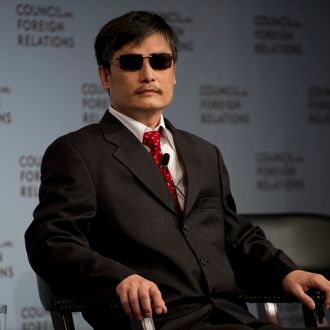 Photo: DON EMMERT/AFP/Getty
Chen Guangcheng, the blind Chinese dissident who famously took up a law school fellowship at NYU after escaping from house arrest in China, has finally weighed in on the notion that NYU is pushing him out because of its relationship with the country, and his take is right in line with the New York Post's. Chen says he's being pushed out because of his criticism of the Chinese government, which he says NYU has been trying to curb under pressure from the Communist Party in China. "As early as last August and September, the Chinese Communists had already begun to apply great, unrelenting pressure on New York University," Chen said in a statement Sunday, according to the Post.
"The work of the Chinese Communists within academic circles in the United States is far greater than what people imagine, and some scholars have no option but to hold themselves back," Chen said, according to the New York Times. On top of pushing him out, Chen says NYU, which is building a campus in Shanghai, tried to limit his activism regarding the Chinese government:
In August, he told friends that N.Y.U. was trying to dissuade him from traveling to Washington to meet members of Congress. As he was returning to New York that day, two N.Y.U. interpreters who were accompanying Mr. Chen refused to allow a reporter from Radio Free Asia to interview him at Union Station. The reporter, Zhang Min, said in an interview that Mr. Chen was so angry that he threatened to stay in Washington.
NYU, which has been saying since the Post's first story on Thursday that Chen's fellowship was only ever supposed to last a year, said through spokesman John Beckman on Sunday that Chen's statement "contains a number of speculations about the role of the Chinese government in N.Y.U.'s decision-making that are both false and contradicted by the well-established facts." Beckman told the Times the school had provided "opportunities for Mr. Chen to pursue his advocacy." 
To Chen's claim that the school started talking to him and his family about leaving just a few months after they arrived, Beckman said it was "not because of some fictional 'pressure' from China, but so that they could use the months to make their transition a smooth one." Obviously, that's not happening.