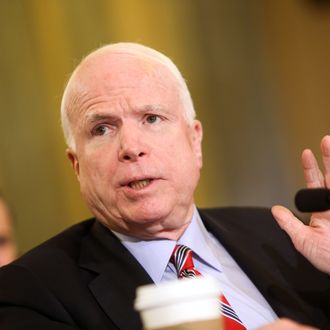 Photo: Allison Shelley/2013 Getty Images
On Election Day 2008, Newsweek reported that both the Barack Obama and John McCain camps had been hacked by a foreign entity using an e-mailed spear-phishing attack to gain access to sensitive documents. "Obama technical experts later speculated that the hackers were Russian or Chinese," the magazine reported. It was hard to know what to make of the news, and even though Obama later confirmed his campaign's computers had been infiltrated, the scale of the breach was never clear. Four and a half years later, the U.S. says China was behind the persistent cyber attacks, something investigators learned when the Chinese were too eager to act on some information they'd stolen from the McCain camp.
NBC News reports:
In one incident that caused concern among U.S. intelligence officials, the Chinese hackers appeared to have gotten access to private correspondence between McCain, then the GOP presidential candidate, and Ma Ying-jeou, the newly elected president of Taiwan. On July 25, 2008, McCain had signed a personal letter — drafted on campaign computers — pledging his support for the U.S.–Taiwanese relationship and Ma's efforts to modernize the country's military. A copy of the letter has been obtained by NBC News. 

But before the letter had even been delivered, a top McCain foreign policy adviser got a phone call from a senior Chinese diplomat in Washington complaining about the correspondence. "He was putting me on notice that they knew this was going on," said Randall Schriver, a former State Department official who was serving as a top McCain adviser on Asian policy. "It certainly struck me as odd that they would be so well-informed."
Yes, that is odd. It's also a bit odd that these officials are talking about this to the press now, especially with so many more recent revelations about Chinese hacking, including of U.S. weapons systems, media companies, and other companies. But as NBC points out, the revelation comes just as Obama is getting ready for a two-day meeting with Chinese President Xi Jinping, during which he's expected to bring up cyber-spying. So maybe it's not that odd after all — they'll certainly have enough to talk about.