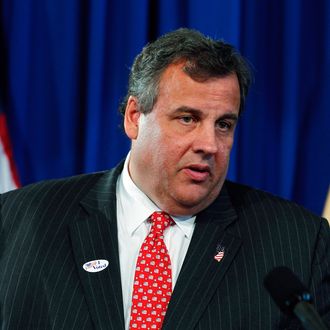 Chris Christie this morning.
Photo: Jeff Zelevansky/Getty Images
New Jersey needs to fill its now-vacant Senate seat, and what luck — a regularly scheduled gubernatorial election is already taking place on November 4. A special election for Frank Lautenberg's former seat can be tacked on at little extra cost or inconvenience. States typically love it when this happens. 
But at a press conference this morning, Chris Christie announced that the special election will actually take place a few weeks earlier, on October 16. Because, as Christie explained, the price tag of holding the election on a different day pales in comparison to the value of having a senator in Washington represent the people of New Jersey for those three weeks. Christie may have ulterior motives, of course. As Jason Zengerle wrote yesterday:
[Lautenberg's] Senate seat will be filled in a special election, and whichever Democrat is running for it — be it Cory Booker or Frank Pallone or even Rush Holt — can expect a huge amount of state and national party support.

If the election is held in November, it's inevitable that some of that support will spill over to [Christie's Democratic opponent, Barbara] Buono too. Will it be enough support for her to beat Christie? Probably not. But it could be sufficient to deny Christie the huge reelection margin he was counting on as a springboard to a 2016 presidential run.
Christie is beating Buono by about 30 points in the polls, but he's apparently not willing to take any risks.