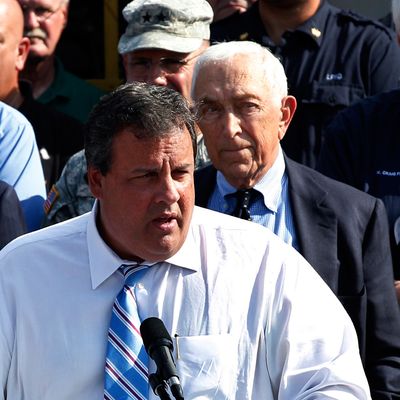 Photo: Mel Evans/AP/Corbis
Chris Christie hated Frank Lautenberg, who may have been the New Jersey governor's most persistent critic. When I was profiling Christie back in 2010, I repeated to him some criticism from the Democratic senator. "All he knows how to do is blow hot air," Christie replied, "so I don't really care what Frank Lautenberg has to say about much of anything." Anything? "I'm always willing to read something in the paper that he said, and if he makes sense, I'm happy to work with him on it. I haven't found one yet." A couple of years later, after Lautenberg had attacked Christie for raising tolls, the governor blasted the senator as "an embarrassment to the state."
Now that Lautenberg has passed away at the age of 89, Christie is having to make nice with his critic's memory, praising him as "a fighter" and for "a life well lived." But, at least in political terms, Lautenberg's death may give Christie even more reason to hate the guy. That's because it has the potential to throw a serious wrench into Christie's plans
Until this morning, Christie was on a glide path to winning reelection this November, leading his Democratic opponent Barbara Buono in the polls by 30 points. State and national Democrats had given up on the race: When Barack Obama visited New Jersey last week for a tour of Sandy recovery efforts, he spent the day bonding with Christie in front of the cameras as they walked a boardwalk; Buono was relegated to a brief private meeting with Obama and 30 of her fellow state legislators.
With Lautenberg's death, Democrats are now suddenly paying attention to New Jersey again. His Senate seat will be filled in a special election, and whichever Democrat is running for it — be it Cory Booker or Frank Pallone or even Rush Holt — can expect a huge amount of state and national party support.
If the election is held in November, it's inevitable that some of that support will spill over to Buono too. Will it be enough support for her to beat Christie? Probably not. But it could be sufficient to deny Christie the huge reelection margin he was counting on as a springboard to a 2016 presidential run. There are conflicting statutes, however, and  it's possible that the special election for Lautenberg's seat wouldn't have to be held in November. Christie could call it for October, or even 2014  — meaning Buono would lose her potential Democratic coattails.
Either way, Christie has to pick a replacement for Lautenberg. This is something governors usually like to do, especially since that replacement would enjoy a huge advantage as an incumbent in the upcoming special election, but it will be a complicated choice for Christie. As a candidate for governor in a blue state, Christie has lately been casting himself as a uniter and a problem-solver, someone who's above petty partisan politics. In that vein, he might want to appoint a moderate Republican like State Senator Tom Kean Jr. or his longtime adviser Bill Palatucci. At the same time, national Republicans, some of whom are still angry at Christie for his post-Sandy embrace of Obama in the days before the 2012 presidential election, will want him to tap a more conservative replacement. As David Axelrod tweeted this morning, "Fascinating dilemma for Christie. Does he name interim who reflects his more moderate state, or feed Tea Party for '16?"
That's why one smart New Jersey politico I know thinks Christie will essentially punt by picking a placeholder for the seat and letting the Republicans and the Democrats fight for it on equal footing — which, in a blue state like New Jersey, essentially means ceding the seat to the Democrats. "It would minimize the amount of effort the national Democratic Party would have to put in to the race, and it would make Christie look good." As for who that placeholder might be, the New Jersey politico thinks someone like former governor Tom Kean Sr. would fit the bill. And if Kean Sr. doesn't want to spend his next six months in D.C.? "I hear Jon Corzine's available."