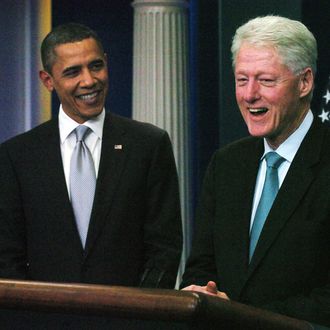 Thanks Bill, I've got it from here.
Photo: Pool/2010 Getty Images
Former presidents usually avoid publicly criticizing the guy currently in office, but this week Bill Clinton said he thinks President Obama needs to do more to support the rebels in Syria, suggesting that if he fails to act he could wind up looking "like a total fool." The former president was speaking with John McCain, one of the biggest advocates for more intervention in Syria, at a McCain Institute for International Leadership event in Manhattan Tuesday night. The event was closed to the press, so it's possible that Clinton thought he was having a private conversation with the dozens of people in attendance. However, someone recorded the conversation and gave it to Politico, so we now know Clinton's thoughts on what Obama needs to do to avoid being seen as "a total wuss" a few years down the line.
Clinton's opinions on Syria came up during a question-and-answer session with McCain. "Some people say, 'Okay, see what a big mess it is? Stay out!' I think that's a big mistake. I agree with you about this," Clinton said. "Sometimes it's just best to get caught trying, as long as you don't overcommit — like, as long as you don't make an improvident commitment." He added, ""I don't think Syria is necessarily Iraq or Afghanistan — no one has asked us to send any soldiers in there."
Politico doesn't quote the question, but at McCain's urging, Clinton described how he decided to intervene in Kosovo and Bosnia, and suggested that when polls say the public is against foreign intervention, they don't necessarily mean it. Per Politico:
If Clinton had ever blamed a lack of action because "there was a poll in the morning paper that said 80 percent of you were against it … you'd look like a total wuss," he said. "And you would be. I don't mean that a leader should go out of his way or her way to do the unpopular thing, I simply mean when people are telling you 'no' in these situations, very often what they're doing is flashing a giant yellow light and saying, 'For God's sakes, be careful, tell us what you're doing, think this through, be careful."

Clinton continued, "But still they hire their president to look around the corner and down the street, and you just think - if you refuse to act and you cause a calamity, the one thing you cannot say when all the eggs have been broken, is that, 'Oh my God, two years ago there was a poll that said 80 percent of you were against it.' Right? You'd look like a total fool. So you really have to in the end trust the American people, tell them what you're doing, and hope to God you can sell it" and that it turns out okay in the end.
So, note to Obama:  When asked about why you dragged you feet on Syria, stick with "concerns about aiding Al Qaeda-affiliated rebel groups," rather than "polls showed Americans weren't feeling it."