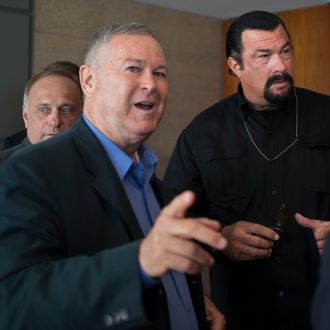 Rep. Dana Rohrabacher, foreground, Steven Seagal, right, and Rep. Steve King, left, at a news conference in Moscow on June 2, 2013.
Photo: Alexander Zemlianichenko
Last week, a six-member congressional delegation visited Russia, and after discussions with Russian parliament members and a rare briefing at the FSB, the successor to the KGB, lawmakers were able to reveal on Sunday that "nothing specific" would have prevented the Boston bombings — though they said there must be greater communication between the U.S. and Russian intelligence communities in the future. The delegation didn't present any new information about the suspected bombers, but the trip wasn't a total bust, as the lawmakers got to spend some time with statesman Steven Seagal.
While Seagal and Dennis Rodman are both washed-up celebrities who inexplicably injected themselves into world diplomacy in the past few months, there's an important difference between the two. While no one in Washington seemed to appreciate Rodman befriending North Korean dictator Kim Jong-un, Seagal was invited to attend a Congressional news conference on Sunday, where lawmakers thanked him repeatedly for helping to organize their trip. Rep. Dana Rohrabacher said it was much better than past trips arranged by the U.S. Embassy. "You know what we got? We got the State Department controlling all the information that we heard," Rohrabacher said. "You think that's good for democracy? No way!"
Seagal, who is friends with Vladimir Putin, helped arrange the meeting with the FSB, though it seems one of the congressmen wasn't paying attention. According to Rep. Steve King, Russian security officials told the delegation that Tamerlan Tsarnaev and his mother were radicalized before they moved to the U.S."I suspect he was raised to do what he did," said King. However, Rep. Steven Cohen said they were told that the radicalization took place after the family had moved to Boston.
On Saturday, Seagal escorted the delegation on a trip to the Caucasus town of Beslan, the site of a 2004 terrorist attack, but the action star's planned Chechnya detour was called off. Cohen said he wouldn't go because Chechen President Ramzan Kadyrov has been accused of killing and torturing critics of his government. Rohrabacher said the trip was called off partially because House rules would prevent the delegation from flying on Seagal's private plane.
One of Rohrabacher's big takeaways from the trip was that the U.S. should be more understanding of Seagal's pals Kadyrov and Putin. "If you are in the middle of an insurrection with Chechnya, and hundreds of people are being killed and there are terrorist actions taking place and kids are being blown up in schools, yeah, guess what, there are people who overstep the bounds of legality," Rohrabacher said, adding, "We shouldn't be describing people who are under this type of threat, we shouldn't be describing them as if they are Adolf Hitler or they're back to the old Communism days."