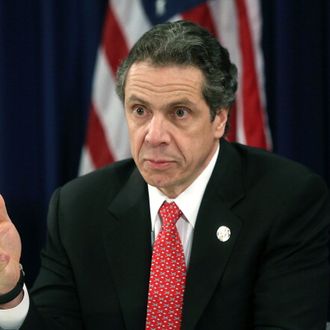 In May 2012, around the same time that the New York Times accused the Cuomo administration of removing documents from the state archives and using pin-to-pin BlackBerry Messenger because it doesn't leave a digital trail, the governor and his aides made a ten-minute video mocking their reputation for secrecy, and played it at the Albany press corps' annual gala. The Times promptly requested a copy of the video under the state's Freedom of Information Law, and in what the paper calls "a real-life punch line for the joke," Cuomo has refused to release the video. Now to shame the administration hours before this year's Legislative Correspondents Association show, the Times has published an account of what the governor doesn't want us to see.
Cuomo spokesman Josh Vlasto, who is now the governor's chief of staff, set up the video, referencing the administration's "historic commitment to transparency." The Times reports:
He proceeded to explain the conceit of the video, that he and Mr. Cuomo's communications director at the time, Richard Bamberger, brought cameras into the governor's office to shed light on the administration's inner workings.

But then Mr. Cuomo goes missing, and his aides look for him. At one point, Mr. Bamberger is interrupted feeding documents into a shredder. Mr. Cuomo turns up at the Executive Mansion, where a state trooper finds him drinking wine with a reporter, Liz Benjamin, whom his office has differed with.
Administration officials made the questionable claim on Monday that they can't release the video due to copyright concerns, since they didn't get permission to use songs like "Top Gun Anthem" and "Pink Panther Theme" in the clip. It's also easy to see why a politician who hopes to run for higher office wouldn't want to share a footage of himself drinking with the press as aides shred documents. On the other hand, during his campaign, Cuomo promised to run the most transparent administration in state history, so the ironic secrecy scandal actually means he and the president have something in common.