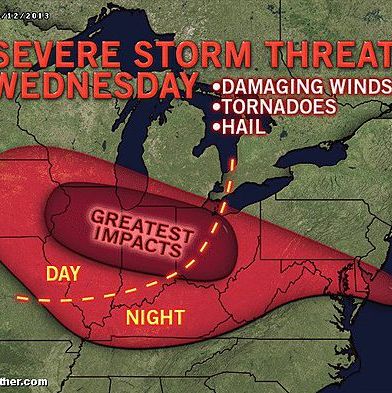 It's been almost a year since the last string of scary thunderstorms known as a derecho threatened New York City, resulting in some awesome Instagrams and minimal destruction. Most of the Midwest is expecting similar downpours — with a chance of hail, tornadoes, and winds around 60 mph — tonight and into tomorrow, according to AccuWeather, with side effects (thunderstorms) stretching into New York, New Jersey, and Pennsylvania.
"It's a pretty high threat," said one storm predictor, who isn't expecting the storms to be as bad as last year. "We don't want to scare people, but we want them to be aware."
The National Weather Service has issued a flood watch for New York City from Thursday morning through Saturday morning. Surrounding areas could get up to seven inches of rain, but the weekend is supposed to be wonderful, assuming we make it there.