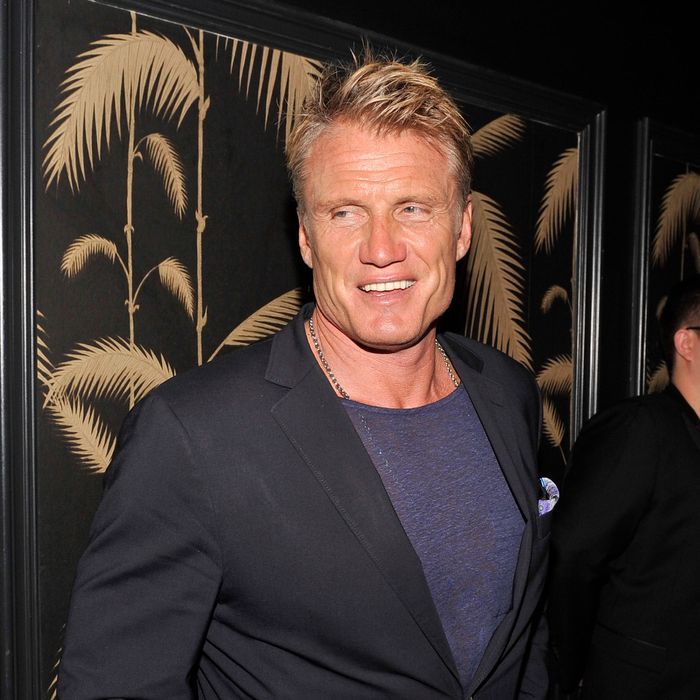 "Idi Amin was pretty cool."
Photo: Stephen Lovekin/Getty Images
Dennis Rodman took in a basketball game with Kim Jong-un. Steven Seagal watched a judo match with Vladimir Putin. Gérard Depardieu recorded a song with the daughter of Uzbekistan strongman Islam Karimov.
It seems like every, er, formerly more-popular celebrity has a despot buddy these days. So last night a screening for Pedro Almodóvar's I'm So Excited at Sunshine Cinemas, we asked Dolph Lundgren which of the world's dictators he would most like to hang with. 
"Oh, Jesus. Putin, maybe," the Swede told us. He later clarified that he doesn't actually consider Putin a dictator, but it's not like Idi Amin is around anymore. "Idi Amin was pretty cool," Lundgren joked, darkly. "Human flesh — you get that extra bonus for dinner."
As for how he and Putin might spend their time together, Lundgren suggested martial arts, perhaps some shooting. 
"Maybe, like, sniper rifles. Russian sniper rifles would be good," Lundgren said. "The ones that go right through the armor-plated vehicles. Those would be good. Yeah."
The friendship would be a particularly easy fit because Sweden and Russia are so close, geographically, and because they both "drink a lot." Also, people kind of think he's Russian anyway. 
"I guess I'm an adopted Russian movie star because they don't have any famous people there — not famous over here," Lundgren said. "And because I play a lot of Russians, they think I'm their substitute for their own guy."