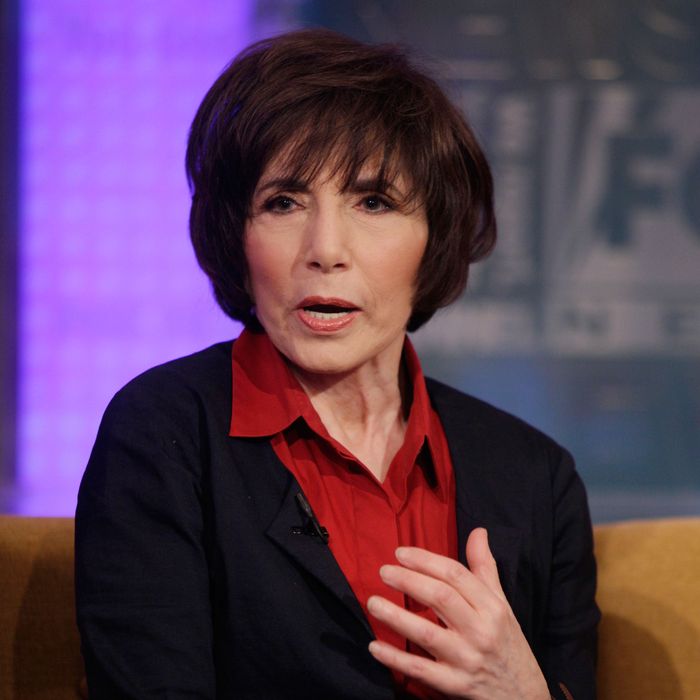 "And then when I saw the bicycles on top of it, I realized this is the stuff of your darkest aesthetic dreams."
Photo: Richard Drew/AP
Dorothy Rabinowitz, the Pulitzer Prize–winning writer, editor, and member of The Wall Street Journal's famously conservative editorial board, favors lunch at her favorite sushi restaurant near the Greenwich Village apartment where she has lived since 1972.
The five-foot-tall Rabinowitz, whom her friend and neighbor Simon Doonan likes to say is in her "glamour decade," was wearing a turquoise-trimmed white summer blazer by rag & bone over a low-cut black camisole, tight black summer pants, and little black booties. Her hair was in a fetching free-floating, artichoke do.
It was 1 p.m. on Sunday. The night before, she stayed up late watching The Sopranos, fell asleep at 4:30 a.m., tumbled out of bed at 10:30, made coffee, and played with her Tibetan terrier. Then she made her way to Japonica to discuss, among other things, Mayor Bloomberg's new bike-sharing program sponsored by Citibank — which she finds dreadful, atrocious, and totalitarian.
But when we sat down, she wasn't ready to talk bicycles just yet. After ordering salmon roe and a tuna roll, she mused about the can-do spirit of the postwar America she knew growing up in Queens and the sense of optimism that has "just been abraded" and replaced by "a distinct kind of disaffection" with everything except for the self-absorption and government-hatred that now passes as political action. She finds it all "so bizarre."
By extension, the NSA leaker Edward Snowden ("a little narcissist") and "the pack of idiots" that see him as their hero were also on her mind. "Surveillance is important in the war against terror, which exists," she said. "Snooping into what? Most sane people would say, 'Go ahead, look at my e-mail correspondence, what do I care? As long you stop the bombers in Boston.' I mean, that is the normal, visceral American response."
Rabinowitz said she has no patience for the "political orthodoxy" that the government is broken, especially when that notion is advanced by "right-wing crazies." She is no fan of Ron or Rand Paul or their ilk. She called the battle between far-right and moderate Republicans (e.g., Nelson Rockefeller versus Barry Goldwater) traditional stuff. "This is different," she said of libertarian, isolationist right-wing thinkers, whom she calls "the biggest danger now" and "the absolutely worst force ever."
"They are the great menace," she reiterated. "They will ensure Democratic victory. These voices are in the ascendancy now. This has never happened before."
After holding forth on the ACLU, the Center of Constitutional Rights ("the loudest of the legal propaganda mills of the far left"), and the madness of exhibitionistic cable TV commentators whining about increased airport security, she paused, then said, "I don't want to lecture you on all these things."
So, on to the bike situation in New York City. She recalled the May day the Citi Bike racks first appeared and how she almost leaped out of a taxi when she saw them. At first she didn't know what she was looking at, but as the cab went further into the Village, she understood. On her block, people were panicking, she said. They were saying things like, "Is this really going to be in front of my apartment?" "I realized it was like some science-fiction thing," Ms. Rabinowitz recalled. "The pods have landed, only they've landed with the racks, and they're coming with allies called bicyclists. The activating force behind all of the fury was the racks, instruments of aesthetic torture."
The racks were ugly and mouse-colored. And the "blazing blue" bikes? Hideous. "I was thinking, No one is going to live with it," she said. "I literally thought that. And then when I saw the bicycles on top of it, I realized this is the stuff of your darkest aesthetic dreams. There is nothing human about the racks. Not even when people get on the bikes."
On the bikes otherwise benign human beings become menaces, because they don't feel bound by traffic laws. "Unless I was having too much wine after dinner, I actually saw somebody on a bike stop at a red light," she said. "Once. That may have happened. If it happens more than once, I will submit myself to psychiatric examination on the grounds I'm having a delusion."
Beyond the physical dangers for pedestrians, there is the tragic spectacle of non-bikers riding bikes. "They don't look cool," she said. "They have that little half-smile of people who don't know if they're going to do well because everybody's watching them. And in fact, everybody is watching them."
In some sense, the collective acceptance of the new norm reveals a certain passivity in the spirit of New Yorkers. "In another kind of city, in another kind of society, the first time people were knocked over by bicycles, what happens? A lot. People would be marching! We're not a bunch of marchers. And the fact is that bicycles are nice things. I've ridden them."
Oh, really? "About ten years ago in the country. Oh, no! Six years ago on Fire Island. Yeah, you ride a bike, it's just a thing — but there is this religious zealotry attached to the riding of bicycles in this city that tells you everything."
Bicycle messengers and delivery people, though often reckless, don't really bother her. "I'm talking about the much less recognized world of entitled, middle-class and upper-middle-class riders in the city who think they are serving a noble cause. It's basically their very identity that they are special people, that they're helping the environment, and nobody has ever instilled any notion in them of the necessity of following a traffic rule."
She describes being approached by strangers on the street, grateful to her speaking out. "People walk up to me and say, 'I'm so glad you said that about the bikes.' I say, 'What the hell are we whispering about? What is this, East Germany?' But it's an instinct, because what can we do about it?"
Many Fridays at The Wall Street Journal's offices in the News Corp. building, Ms. Rabinowitz stops by a TV studio to hold forth on current political and social issues.
Since 2011, she has appeared in dozens of videos. By late May, her hostility toward the Citi Bikes was well known to Journal staffers, and "Opinion Journal Video" producers asked her to share her views. In the five-minute spot, she called the bikes "dreadful" and the Bloomberg administration's mindset "totalitarian." Almost immediately there was an uproar across the blogosphere. Over the next few days, a legion of bloggers and commenters went after Ms. Rabinowitz, calling her crazy, delusional, addled, a snob, and much worse.
"That was fun," Ms. Rabinowitz said of the reaction. "I was pleased at the reach of this video and not exactly astounded by the lowlife ferocity of all the attacks directed at me." 
Excitedly, she reached into her purse and found a greeting card a woman had sent to her. "This sums up the general attitude — this is the biker-fanatic sensibility." She handed it to me.
"You are still a cunt," it read. I gasped.
"This is nothing," she said, laughing. "Look, there's a good reason not to read things on the Internet. I mean, who are we talking about? These are people who don't enter your mind. They have their work cut out for them — Oh my God, this woman said this about bikes, 'totalitarian' — never thinking the word totalitarian means, of course, as I meant it, the utopian scheming, not Soviet soldiers marching in the streets." 
Had she read the article at The Atlantic's website that advanced the idea that she "was the object of deserved mockery" for using the term to describe the Bloomberg administration? "I saw that. There's this kind of basic illiteracy in the reading population, they don't know the meanings of words," she said.
The Daily Show wanted her to go on. "But they didn't want me to go on the show to chat with [Stewart]," she said. "They wanted me to give them an hour and a half or two, and then they could take what they wanted. It's so obvious that they would take what they want and use it for their own purposes. They were very, very, very persistent, and I was very, very persistent and said, 'Absolutely not.' I said, 'If you want to sit me up there next to Jon Stewart, I could return fire.'"
Wouldn't they edit some of that out, too? "They would," she said. "But at least you're up there." 
The Daily Show did a segment anyway. After a clip of Rabinowitz was shown, Jon Stewart made a funny face, and the studio audience roared on cue. "It's just fucking bikes, lady," he said.
It reminded her of other Daily Show segments she'd seen — including one mocking the New York Times simply for being a print newspaper. "So that is Jon Stewart," she said. "It's the school from which David Letterman's writers are born. That is, the humorless, witless insult school."
When the novelty wears off, she expects New Yorkers will sour on the blue bikes. "I have a strong feeling that about a year from now many politicians are going to be spending a lot of time distancing themselves from the bike-share program," she said. "Wait until January."
Might the sight of Mayor Bloomberg riding a Citi Bike ease some of her doubts? "The mayor has a lot of poise," she said. "He would never let himself be caught doing that."