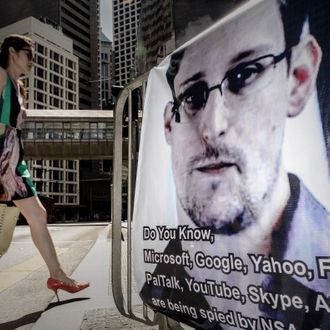 When we last checked in with Edward Snowden on Saturday afternoon, the former NSA contractor who gave confidential surveillance information to the press was still in Hong Kong, though the United States, which has charged him with espionage, had requested his extradition. A lot has changed since then: On Sunday, Snowden left Hong Kong on an Aeroflot plane, flying to Moscow after Hong Kong said the U.S. extradition request didn't fully comply with its laws. He's thought to be en route to Cuba next, and has reportedly requested political asylum in Ecuador.
Hong Kong's government released a statement on Sunday saying that the U.S. extradition request "did not fully comply with the legal requirements under Hong Kong law." It said Snowden had left the special administrative region of China "on his own accord for a third country through a lawful and normal channel." The Hong Kong government "has yet to have sufficient information to process the request for provisional warrant of arrest, there is no legal basis to restrict Mr Snowden from leaving Hong Kong."
Snowden flew to Moscow in the company of WikiLeaks legal advisers, who helped broker an offer of asylum, Julian Assange told the Sydney Morning Herald. Assange wouldn't confirm to the Herald which country had offered him asylum, but the Russian ITAR-Tass news service reported it was Venezuela, according to the Associated Press.
In the meantime, Snowden is hanging out in the transit zone of the Moscow airport, out of reach of Interpol, the Los Angeles Times reports. Russia and the United States have no extradition treaty. Some Russian politicos speculated to the Times that Snowden might wind up seeking asylum in Russia, rather than continuing on to Cuba. He was at one point thought to be heading to Venezuela, but the news of his asylum request to Ecuador seems to have put that to rest. The next plane to Havana leaves on Monday.
The White House hasn't commented on Snowden's flight to Moscow, and the Justice Department said only that it would "continue to discuss this matter with Hong Kong and pursue relevant law enforcement cooperation with other countries where Mr. Snowden may be attempting to travel," according to the AP. But U.S. legislators were much more vocal in their criticism of Moscow.
"Allies are supposed to treat each other in decent ways, and Putin always seems almost eager to put a finger in the eye of the United States, whether it is Syria, Iran, and now, of course, with Snowden. That's not how allies should treat one another, and I think it will have serious consequences for the United States-Russia relationship," Senator Chuck Schumer said on CNN's State of the Union. "The freedom trail is not exactly China-Russia-Cuba-Venezuela, so I hope we'll chase him to the ends of the Earth, bring him to justice and let the Russians know there'll be consequences if they harbor this guy," Senator Lindsey Graham said on Fox News Sunday.
We probably won't know Snowden's final destination for sure until he's there. In the meantime, we congratulate him on coming up with a truly novel way to travel the world.
Update, 12:48 p.m.: Snowden, who has checked into Moscow's airport hotel, has requested asylum in Ecuador, that country's foreign minister said.
Officials from the Ecuadorean embassy visited the airport after Snowden landed, and after some initial trouble finding him, met with him at the airport. Ecuador has already granted asylum go WikiLeaks' Julian Assange.
Update, 1:09 p.m.: Snowden is "bound for the Republic of Ecuador via a safe route for the purposes of asylum," WikiLeaks said in a statement. He asked WikiLeaks for help in finding him asylum, the group says, because of its experience in arranging asylum for Assange.
Update, 1:58 p.m.: The United States revoked Snowden's passport before he left Hong Kong for Russia, both the AP and Reuters report, citing unnamed U.S. sources. It's not totally clear what effect this will have on his travel plans, but according to the AP, "the U.S. official said that if a senior official in a country or airline ordered it, a country could overlook the withdrawn passport." So the withdrawn passport won't necessarily block his travels. It certainly didn't prevent him from getting out of Hong Kong.
Update, 3:26 p.m.: A statement from the State Department explains a bit more about the significance of revoking Snowden's passport: "Such a revocation does not affect citizenship status. Persons wanted on felony charges, such as Mr. Snowden, should not be allowed to proceed in any further international travel, other than is necessary to return him to the United States."