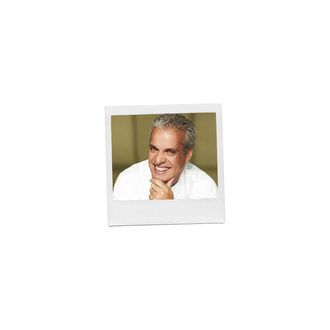 Name: Eric Ripert
Age: 48
Neighborhood: Upper East Side
Occupation: Chef, Le Bernardin, recently named to San Pellegrino's list of "The World's 50 Best Restaurants" and which recently announced its first expansion in history, to include a wine bar.
Who's your favorite New Yorker, living or dead, real or fictional?
Batman. Because he's a superhero and he saves the city all the time, but very often he fucked up a little bit. I grew up reading comic books — too many — because of that I ended up in the kitchen at an early age. The more you read comics, the less studying, right?
What's the best meal you've eaten in New York?
This one is impossible to answer. There are so many great meals in restaurants and so many great meals with friends and meals with my family. I can't choose. I like cooking for friends, but I also like being invited. It's a treat for me as well.
In one sentence, what do you actually do all day in your job?
I mentor, create, manage, work.
What was your first job in New York?
I was a sous-chef at Bouley in 1990. I was 23 years old and living in Washington, and Washington is not a city for a 23-year-old single guy. New York, especially in the late eighties, was quite attractive in terms of partying and having a good life.
What's the last thing you saw on Broadway?
I go to see shows, but not necessarily on Broadway. The last one on Broadway was Spiderman. See! I like comics.
Do you give money to panhandlers?
Yes, always. I do it because I can.
What's your drink?
Red wine, Scotch, tequila. Not at the same time. If I have to drink a cocktail, I'd go for a Negroni: It's three alcohols in one cocktail, so it hammers you right away.
How often do you prepare your own meals?
Once a week, whatever's in season or whatever I find at the market (when I say market, I mean store). Last night I made a roasted chicken, ratatouille, couscous, and cauliflower gratin.
What's your favorite medication?
Fernet Branca.
What's hanging above your sofa?
Nothing at all. The sofa is in the center of the room. But I collect the art of my friend, a painter from Colombia named Valentino Cortazar. He paints mostly naked women.
How much is too much to spend on a haircut?
I'm lucky enough that I have a great friend who's a hairdresser, and I never pay. And on top of it, she calls to remind me because I always forget to get my hair cut.
When's bedtime?
When I feel sleepy. Could be eleven o'clock, midnight. Yesterday I fell asleep at 3:30 in the afternoon.
Which do you prefer, the old Times Square or the new Times Square?
I prefer the energy of the old one, but I like the idea of Times Square today where we can walk and we have the chairs and all that. I like the fact that it's safe here now also, but I'm not necessarily a fan of the Walt Disney–esque gentrification.
What do you think of Donald Trump?
He's tall. [Laughs.] I don't know. I think he is.
What do you hate most about living in New York?
In the winter when we have daylight savings. I hate that. Because suddenly at four o'clock it's dark. I don't care anywhere else, but for some reason it matters to me in New York. I just need to see the light.
Who is your mortal enemy?
I'm probably naïve because I don't think I have a mortal enemy … I've never had bedbugs in my house, but I'd say they are an enemy. I cross my fingers as I say this. They are not welcome.
When's the last time you drove a car?
Two weeks ago, going to my country house in Sag Harbor. It's the company car and slightly smelled like fish.
How has the Wall Street crash affected you?
Minus 9 percent.
Times, Post, or Daily News?
Times and Post. Every day.
Where do you go to be alone?
I meditate.
What makes someone a New Yorker?
Someone who lives in, understands, and loves the city.