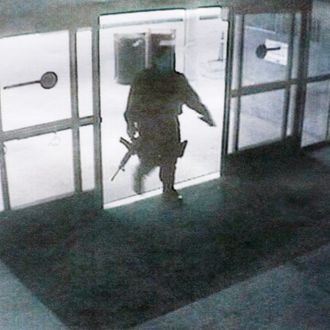 John Zawahri entering the library of Santa Monica College Friday.
Friday's fatal Santa Monica shooting spree by a not-yet-officially named suspect now has a death toll of six (including the gunman). CNN reports that another one of the victims has died from her injuries at Ronald Reagan UCLA Medical Center. Santa Monica College president Chui Tsang wrote on the school's website, "I am saddened to report that Marcela Franco passed away this morning at Ronald Reagan UCLA Medical Center." The 26-year-old woman had enrolled for summer classes at the school and was on her way to buy books with her father when the gunman attacked their SUV. USA Today reports her father died of his wounds Friday.
Police haven't yet named the 23-year-old man responsible, but CNN and the LA Times report that multiple law enforcement sources have said it is John Zawahri, who was himself enrolled at Santa Monica College at one time. Meanwhile, the burning house where his father and brother were killed at the start of the thirteen-minute shooting spree is now believed to have been ablaze ahead of Zawahri shooting a round of ammunition at it (initial reports suggested that the shots caused the fire.)
Here's what little information is available on Zawahri himself: He attended a high school for students behind in academic credits in 2006, according to Superintendent Sandra Lyon of the Santa Monica-Malibu school district; previously suffered mental health issues and was hospitalized for treatment after allegedly talking about harming someone a few years back, according to what a law enforcement source with knowledge of the investigation told CNN; currently, authorities have no link between his actions and any larger domestic or international terrorist plots.