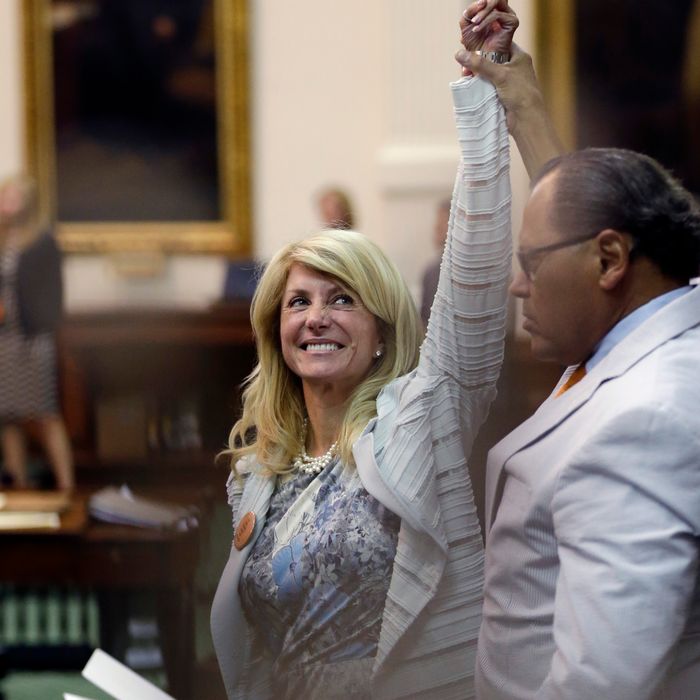 Wendy Davis, minutes before midnight.
Photo: Eric Gay/AP/Corbis
Well over 100,000 people watched via livestream as Texas state senators voted on a bill that would enact some of the nation's strictest abortion restrictions, but hours after the legislative session ended at midnight, it was still unclear if the measure had passed. Democrat Wendy Davis filibustered for more than ten hours on Tuesday, with abortion rights advocates rallying behind her in person and online, using the Twitter hashtag #standwithwendy. Just after 10 p.m., Republicans managed to end her effort, alleging that she violated parliamentary rules three times. Then Democrats tried to run out the clock by appealing the decision. The session ended with Republicans passing the measure minutes too late as shouts and applause from abortion rights supporters drowned out what was happening on the floor.
In the Texas Senate, a filibuster can be ended after a senator is given three strikes for violations. Republicans objected when another lawmaker helped Davis with her back brace, and accused her of going off topic twice by discussing Planned Parenthood's budget and the state's recently enacted law requiring a sonogram before an abortion. While those topics sound fairly relevant, the point of order was sustained by Lt. Gov. David Dewhurst, triggering a messy debate as Democrats sought clarification and tried to stall for time.
State Senator Leticia Van de Putte asked to have the points of order explained to her, saying she had been at her father's funeral earlier in the day. Ten minutes before midnight, she said, "Mr. President, at what point must a female senator raise her hand or her voice to be recognized over the male colleagues in the room?" The comment sparked wild applause that grew into deafening cheers:
Amid the chaos, Republicans huddled around the Senate podium to take a vote. They originally claimed that the bill passed 19-10, with voting taking place just before midnight, but Democrats insisted that the bill didn't pass until 12:02. After hours of wrangling, with Democrats threatening to challenge the vote in court, lawmakers emerged from a Senate caucus meeting and admitted that the vote came minutes too late. (But it's not over: Texas Governor Rick Perry can still call a second special session in which the bill is likely to pass, with Democrats running out of options.)
Last night, after admitting defeat, Dewhurst told reporters, "I didn't lose control of what we were doing," and said the legislation was defeated by "an unruly mob using Occupy Wall Street tactics."
Not to mention one pink sneaker-clad state senator, who ended the day with a well-deserved sit:
This post has been updated throughout.