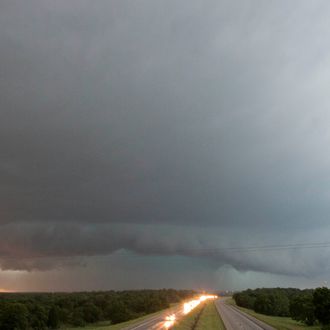 Less than two weeks after a tornado destroyed Moore, Oklahoma, five tornadoes hit the Oklahoma City suburbs on Friday night, and a sixth storm touched down near Tulsa early Saturday morning. (A total of seventeen total tornadoes were reported in the Midwest on Friday, according to the National Weather Service, which is still counting the storms.) Oklahoma's state medical examiner told NBC News nine people were killed, including two children. Canadian County Undersheriff Chris West told reporters seven of the fatalities happened in or around vehicles, apparently because the victims were trying to flee the storm as it closed in on them. Around 100 injuries have been reported. While the tornadoes were less severe than the Moore storm, they still caused significant damage and left 86,000 customers in Oklahoma without power. (Thousands more don't have electricity in Missouri, Illinois, Arkansas, Kansas, and Indiana as a result of the storms.)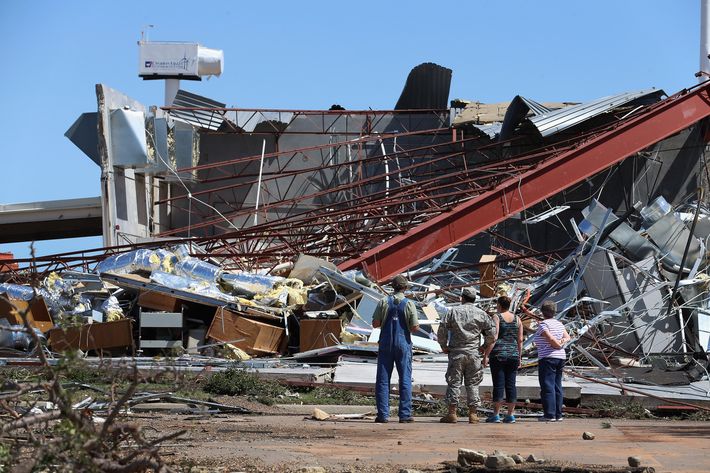 CNN reports, "The storm system swatted down power lines and uprooted trees, flicked big rigs on their sides and yanked off part of the terminal roof at Oklahoma City's Will Rogers World Airport, where some 1,500 area residents had taken shelter in a tunnel." Fights were canceled for the evening and Saturday morning, though the airport has reopened.
During rush hour, one tornado touched down around I-35 and I-40, flooding the streets with 4 feet of water and causing a number of car crashes. Officials described the scene as "a parking lot." Eventually, it turned into "a war zone," as one resident told The Oklahoman. "There were semis turned over and skeletons of buildings remaining." Another witness told AP, "Everyone was leaving. … Just because that one that hit Moore was so fresh in their memory." Here's what one tornado did to The Weather Channel's storm chasing vehicle, which Mike Bettes was driving at the time: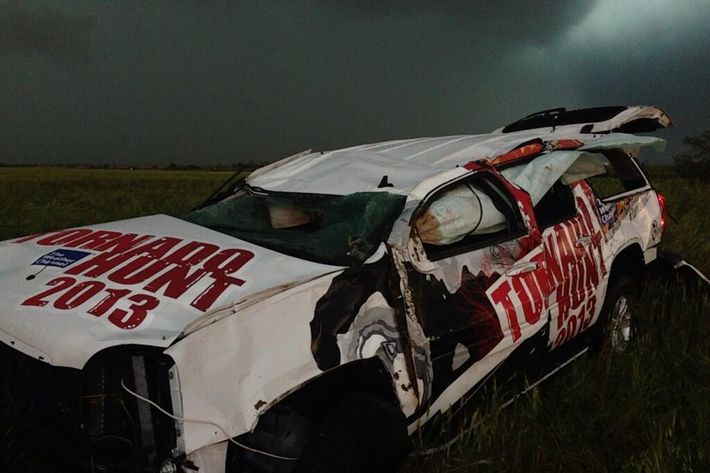 Bettes and two photographers were thrown 200 yards from the car, and all sustained minor injuries. A Weather Channel spokeswoman says it was the first time one of the station's personalities had been injured while covering a storm. Bettes later told The Weather Channel, "That was the scariest moment of my life. I had never been through anything like it before, and my life passed before my eyes."
The National Weather Services Rick Smith told the AP, "This storm had everything you could handle at one time: tornadoes, hail, lightning, heavy rain, people clogging the highways." But, he added, "It's not even close to anything like what we had last week. We were very concerned this would move into downtown. It would have been a major problem. It made all the difference that it was out in the country."
The danger has not passed entirely. An Oklahoma city spokeswoman says the storms came with eight to 11 inches of rain, and flash flooding was still a concern on Saturday. Forecasters say the Midwest should prepare for more violent weather overnight and throughout the weekend.
This post has been updated throughout.