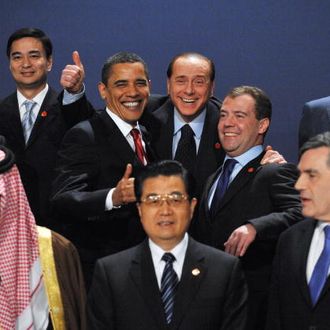 President Obama and other big shots (including Medvedev and former British prime minister Gordon Brown) at 2009's G20 meeting.
Just in time for next week's G8 summit in Northern Ireland's Enniskillen, The Guardian reports that the U.K.'s Government Communications Headquarters (basically the British NSA) spied on foreign delegates during April 2009's G20 get-together in London. That disclosure isn't particularly shocking, but the paper has some details about the nature of the snooping, which was done in the service of "the mundane purpose of securing an advantage in meetings." The Guardian's evidence comes in the form of classified documents and PowerPoint slides provided by Edward Snowden.
The Brits' spying tactics included monitoring G20 attendees' BlackBerry e-mails and phone calls and installing e-mail interception programs and keyloggers in Internet cafes used by delegates, which gave the GCHQ "sustained intelligence options against them even after conference has finished" (translation: login info). The materials reveal that GCHQ targeted a Turkish delegation during a September 2009 meeting of G20 finance officials in order to find out whether Turkey's position on agreements established during the April summit had shifted. For those talks, the GCHQ used then-new technology to create a live display of telephone calls made by delegates, which was projected onto a large video wall at the agency's main office, as well as on the computers of 45 analysts, who used the information to "influence events on the ground taking place just minutes or hours later." 
Additionally, the documents show that the NSA (which has hundreds of agents stationed in the U.K.) eavesdropped on then Russian president Dmitry Medvedev during the April G20 summit, which was the first time he and President Obama met. While the United States spying on Russia (and vice versa) is certainly nothing new, this particular instance is kind of funny because Obama "stressed the need to be candid" at the meeting.
The Guardian's report will likely have no effect on everyone's plans to spy on each other on Monday, but it might give protesters some new ideas for things to put on their signs.