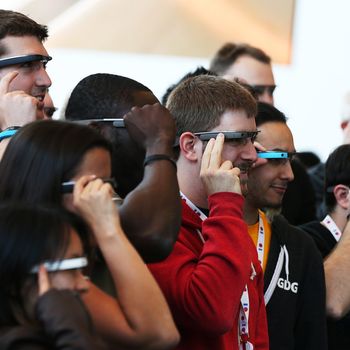 Everyone in this photo is watching porn.
Photo: Justin Sullivan/Getty Images
A company called MiKandi, which released the first porn app designed for Google Glass, just got screwed. After previously saying nothing on the topic of porn, Google's developer policy was changed over the weekend to ban "Glassware content that contains nudity, graphic sex acts or sexually explicit material," which means "Tits & Glass," as the porn app was dubbed, is destined to be blocked. This is just the opening battle, however, in a war that Google is destined to lose. Such is the irrepressible strength of porn. Just as man cannot stop the wind from blowing, or the oceans from … moving around, with waves and tides and stuff, so, too, is he helpless to prevent porn from exploiting a platform that lacks porn.