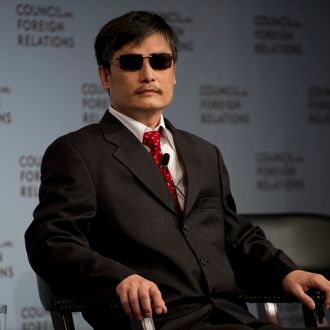 Photo: DON EMMERT/AFP/Getty
The tale of blind Chinese dissident Chen Guangcheng already includes a dramatic escape from house arrest, a kiss for Hillary Clinton, and accusations that NYU is pushing him out due to its cozy relationship with China. Now it also involves a spying angle, as Reuters reports that an iPad and iPhone presented to Guangcheng and his wife by supporters when they first arrived in New York contained spyware. Supposedly NYU technicians found secret, password-protected software that allowed a third party to connect to the device's GPS system and backup the contents to a remote server. However, none of the parties involved can agree on whether the spyware existed, and who might have put it there.
NYU professor Jerome Cohen, who is Chen's mentor, and a second anonymous source say that the devices were a present from Heidi Cai, the wife of activist Bob Fu, in May 2012. Within a few days they were screened by NYU technicians and the spyware was detected. "These people supposedly were out to help him and they give him a kind of Trojan horse that would have enabled them to monitor his communications secretly," said Cohen. They say Chen was "furious" and "very upset" when he found out, but maintained contact with the Fu family.
Fu runs the Christian group ChinaAid, which supports underground churches and victims of forced abortions, and was out of the country when his wife presented the gifts. He told Reuters, "This is the first time I've heard of spyware," calling the charges "ridiculous" and "like a 007 thing." He said he talked with ChinaAid's computer technician, who activated the devices, and "my staffer is 100 percent sure that the only thing he added on the iPad was a Skype account."
Mark Corallo, a media consultant who has been working with Chen, had an entirely different version of events. He says NYU snatched Fu's gifts before Chen received them, and performed a check even though they were brand new. "None of these functions was on any of the devices provided to him by ChinaAid," he said, adding, "At least to Chen's knowledge, none of these devices was ever found to have any tracking or listening mechanisms."
So, it's unclear if the software was added by ChinaAid, spies infiltrated NYU's tech department, or the entire incident was made up. The bugged Apple equipment certainly isn't as exciting as a bowler hat knife or a ski pole gun, but what it lacks in innovation it makes up in intrigue.