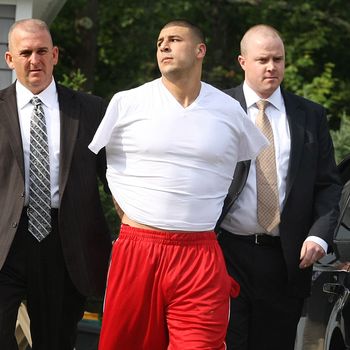 Funny? You decide.
Photo: Boston Globe/2013 - The Boston Globe
Here's the latest in the murder case against newly unemployed NFL star Aaron Hernandez: A second man is in custody in connection with the death of Odin Lloyd, who was shot five times and dumped at an industrial park, while Hernandez is also being investigated as a possible suspect in a 2012 double homicide.
Oh, and his arrest in Lloyd's "execution" has become an Internet joke.
Like Tebowing before it, but with a body count, #Hernandezing grew into a popular Twitter hashtag last night and consists of a troubled-looking subject being photographed with his or her hands tucked back, under a T-shirt, as if handcuffed.
It's either darkly hilarious or horribly glib, depending on, for instance, one's proximity to gun violence, but it does demonstrate America's ability to find a meme in anything. It looks like this:
And then there's this guy (note the small child in the background):
He took it one step further:
Yeah. Cool.