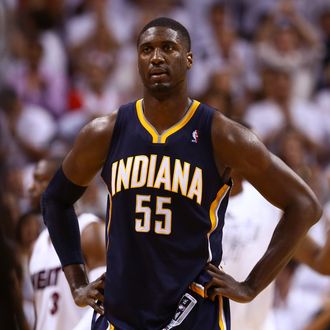 Roy Hibbert.
Photo: Streeter Lecka/2013 Getty Images
In a press conference after his team beat the Miami Heat in Game 6 of the Eastern Conference finals on Saturday night, Indiana Pacers center Roy Hibbert felt the need to drop a gay slur into an explanation of his defense on LeBron James. "I really felt that I let [Paul George] down in terms of having his back when LeBron was scoring in the post or getting to the paint, because they stretched me out so much. No homo," he said. Hibbert tried to make amends by awkwardly chuckling immediately after making the remark, then apologizing the next morning. However, the NBA wasn't having it, and on Sunday night Hibbert was hit with a $75,000 fine.
Hibbert is far from the first NBA player to be disciplined for homophobic remarks — Kobe Bryant, Joakim Noah, and Amar'e Stoudemire have all received similar fines — and he realized fairly quickly that an apology was in order. A few hours after the incident, he reached out to newly out NBA player Jason Collins for some private advice on the matter (in the most public way possible):
On Sunday morning, a statement from Hibbert appeared on the Pacers' website:
I am apologizing for insensitive remarks made during the postgame press conference after our victory over Miami Saturday night. They were disrespectful and offensive and not a reflection of my personal views. I used a slang term that is not appropriate in any setting, private or public, and the language I used definitely has no place in a public forum, especially over live television. I apologize to those who I have offended, to our fans and to the Pacers' organization. I sincerely have deep regret over my choice of words last night.
Nevertheless, the NBA said it had to make an example of Hibbert. "While Roy has issued an apology, which is no doubt sincere, a fine is necessary to reinforce that such offensive comments will not be tolerated by the NBA," explained NBA Commissioner David Stern.
In the same press conference, Hibbert said he knew his language might earn him a fine, but it seems he thought addressing the press as "y'all motherfuckers" would be what did it.