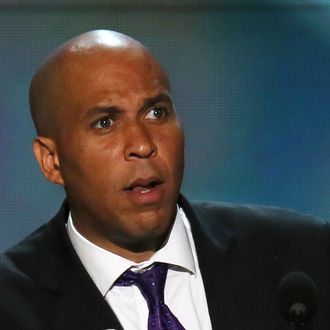 Photo: Alex Wong/Getty Images
By scheduling New Jersey's special U.S. Senate election for October 16, Chris Christie has avoided appearing on the same ballot as Cory Booker in November. But he's also made it more possible that Booker won't appear on the October ballot.
Booker, the Newark mayor and media darling, still has to be considered the odds-on favorite to take over Frank Lautenberg's seat. But Christie's decision to fill that seat with a special election this year, rather than waiting until 2014, makes it all but certain that Booker will face at least one challenger in the Democratic primary on August 13.
The opponent Booker really doesn't want to face is Frank Pallone. For years, Pallone, a New Jersey congressman, has tiptoed up to the line of running for statewide office, only to get cold feet at the last minute because he didn't want to risk losing his congressional seat. It was assumed he'd pull the same stunt with the 2014 Senate race. But now the calculation has changed. Pallone can run in the August primary without risking anything. Sources are now saying that's exactly what he'll do.
On paper, the quick primary should favor Booker, who has high name recognition and the ability to raise lots of money. But don't count out Pallone. Not only does he have more than $3 million in campaign cash on hand. He's also spent years memorizing the operating guide to the New Jersey Democratic Party's machinery that Booker has never bothered to study. Christie's announcement today means that Booker is going to have to take a crash course.