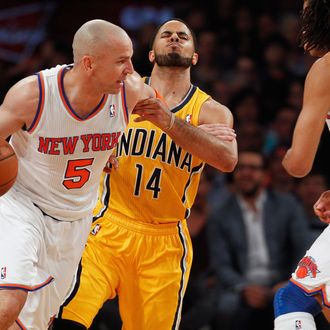 Jason Kidd.
Photo: Jeff Zelevansky/2013 Getty Images
The Nets are reportedly on the verge of hiring Jason Kidd to become their next head coach. Kidd, as you may remember, was an active NBA player as of, like, two weeks ago and, to the best of our knowledge, hasn't managed to accumulate any coaching experience in the nine days since he retired. It would be a risky move, if the Nets ultimately do hire Kidd: Jeff Van Gundy told a Dallas radio station that it looks like the Nets are "looking for something that wins the press conference." In other words, hiring Kidd — a just-retired, Hall of Fame–caliber player and one of the most important figures in franchise history — would mean lots of attention. Whether it will translate to wins is something else entirely, but it's not unprecedented.
Mark Jackson, for instance, was hired by the Warriors in 2011 without any coaching experience. (He'd worked as a TV analyst after retiring, but the Golden State job was his first time in a coaching role.) Doc Rivers took a similar path, working in TV for three years before landing the Magic job in 1999. And for what it's worth, both have had success: Rivers won an NBA title presiding over the Big Three–era Celtics teams, and with a healthy Stephen Curry, Jackson's Warriors improved by 24 wins in his second season on the Golden State bench. So it can be done. Whether it can be done by Kidd is what the Nets have to figure out.
When Rivers and Jackson were hired, it was pointed out that they both played under some great coaches. Rivers had played for Pat Riley and Larry Brown, while Jackson played for five different Hall of Famers, including Jerry Sloan and Lou Carnesecca. Kidd wasn't so fortunate. Of the eight coaches he played for in his NBA career, only four have career records above .500. (Danny Ainge, now a front-office executive, has the highest winning percentage among them at .602, with Rick Carlisle behind him at .587. Avery Johnson — whose firing opened up the Nets job in the first place — is third.) Of course, that doesn't mean Kidd hasn't developed a high basketball IQ, and should they hire him, the Nets would be counting on that basketball IQ to make him a successful coach.
Marc Stein reported earlier this week that part of Kidd's pitch to the Nets was that former head coach Lawrence Frank would join him on the bench as an assistant. It doesn't give Kidd any more experience, of course, but the hope is that it would at least help him learn on the job.