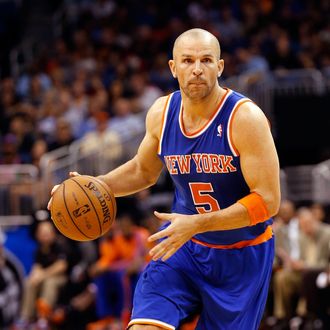 Jason Kidd.
Photo: Sam Greenwood/Getty Images
There's something strange about learning about Jason Kidd's retirement via a press release from the Knicks. Kidd, after all, played nineteen seasons in the NBA and is better associated with every other team he suited up for: He had two stints in Dallas (winning a title there in 2011), spent parts of five seasons with the Suns, and was a member of the Nets teams that went to two NBA Finals in the early aughts. Knicks fans, meanwhile, got to watch Kidd wrap up his career by scoring a total of eleven points in twelve playoff games this season (with no points after Game 2 of the Boston series).
Ugly finishes aside, though, Kidd had a helluva career, finishing with 12,091 assists, behind only John Stockton, to go along with a pair of Olympic gold medals and that NBA title. (As for what this means for the Knicks' payroll next year, Alan Hahn reports that the Knicks would have to work out a buyout agreement with Kidd before we know the impact it'll have, since that money will count against the cap.) And as Seth Rosenthal points out over at Posting and Toasting, there's something poetic about Kidd calling it a career just days after Grant Hill, with whom he shared the 1995 Rookie of the Year award.