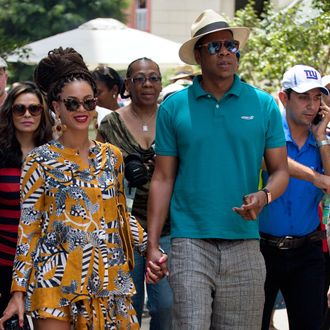 American royalty Jay-Z and Beyoncé Knowles-Carter took a briefly controversial trip to Cuba in April that resulted in an angry (but good!) rap song and subsequent denial from the White House press secretary that Barack Obama had any role in securing the necessary paperwork. "I guess nothing rhymes with Treasury," Obama's mouthpiece quipped. "The president did not communicate with Jay-Z over this trip." Thanks to a Freedom of Information Act request by a MuckRock user, we now have proof, allowing those of us who have been fretting over the legitimacy of the vacation to finally— just kidding, but it's at least another opportunity to look at the pictures.
The partially redacted Treasury documents do reveal that the couple brought their mothers (cute), stayed at the Hotel Saratoga (Suite Habana, probably), and got the go-ahead from New York City's Sir John Soane's Museum Foundation, whose executive director, Charles A. Miller III, tagged along.
Who? "As an English architect of significant influence during the last quarter of the eighteenth and early nineteenth centuries, Soane worked within the parameters of the classical idiom to create unique commercial and residential structures," according to the foundation's website. The "highly idiosyncratic" Soane "was a visionary who used his home as a laboratory for his ideas, the repository for his vast collections of 30,000 drawings; paintings including Canalettos, Hogarths and Turners; architectural models; Greek and Roman sculpture and Egyptian Antiquities; 10,000 rare books, including first editions of Milton and Shakespeare, as well as his very personal dwelling space."
We assume this has something to do with Magna Carta Holy Grail, but the foundation has not returned a request for comment.
Update: "The entertainers Beyoncé and Jay-Z (Mr. and Mrs. Shawn Carter) were among Sir John Soane's Museum Foundation members who traveled with the Foundation's recent architecture and the arts tour to Havana, Cuba," Miller, the director, confirmed. "The trip, our third to Cuba, was organized over the course of several months as a fully licensed people-to-people program, and was packed with activities. The group attended lectures on the history of architecture and urban development in Havana and walking tours of architectural landmarks given by the architect and urban planner Miguel Coyula and others."
Miller said the famous couple's "friends" from London, who went along, "knew the Soane Foundation and that we held a license for travel to Cuba, thus it was organized with us." Here are the group's photos from the trip.