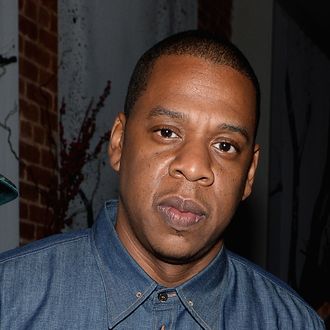 Samsung's newest spokesman.
Photo: Dimitrios Kambouris/2013 Getty Images
It used to be that beverage companies, shoe brands, and clothing lines were the bread and butter of the celebrity-sponsorship circuit. Now athletes, movie stars, and popular musical acts are shilling for smartphones in an effort to pad their income.
Samsung paid a reported $5 million to buy a million copies of Jay-Z's upcoming album, Magna Carta Holy Grail, which will be distributed to owners of Samsung's Galaxy smartphones through a specialized app three days ahead of its general-audience release. The deal shows that smartphone endorsements are now as high-profile and lucrative as other spokesman gigs. And it's a perfect example of the new celebrity-sponsorship model, which looks a lot different from the old "We cut you a check, you film a 60-second TV spot" rigmarole.
Compare Jay-Z's Samsung deal to the one he signed with Budweiser in 2006, as his Kingdom Come album was being released. The Budweiser deal was pretty forward-thinking at the time, since it involved slightly more than Jay-Z selling the TV rights to one of his songs and walking away a few million dollars richer. (As part of the deal, Jay became a "co-brand director" for Budweiser Select, a ceremonial job title that seems to have consisted of doing exactly nothing on the beer's behalf.) But it was still a largely one-sided deal; Budweiser cut the check, and Jay-Z pretended to care about the product they were hawking.
With the Samsung deal, Jay-Z got more than a job title. He got a million guaranteed album sales, a new mobile distribution channel created specifically for him just as the music business is struggling to adapt to the rise of mobile computing, and a buzz-building early release date that is sure to draw media attention. The deal is a true example of ad symbiosis — which might explain why Jay-Z agreed to sell his albums to Samsung for the bargain price of $5 apiece.
Partly, Samsung is pushing the envelope because the smartphone world has gotten so packed with celebrities. Apple has Zooey Deschanel and Samuel L. Jackson in its TV spots, BlackBerry has "global creative director" Alicia Keys, and Microsoft has Jessica Alba and Gwen Stefani. By making Jay-Z's album available to its users (and only its users) ahead of time, Samsung isn't just using Jay-Z's credibility to create an aura of cool around the Galaxy S4; it's requiring true Jay-Z fans to purchase one to take part. It's a pushier kind of advertising, but one that is likelier to result in actual sales. (Note that Samsung, whose estimated ad budget for 2012 was an astounding $4.3 billion, is also doing a lot of the old-school TV ads and promotions with that money.)
Samsung's deal also shows the extent to which music marketing has evolved. In the old days, if you had a new album coming out, you'd appear on talk shows, plaster major cities with your ads, go on tour, and maybe release a clothing line or sell your single to a car company for a TV ad. Those were all decent promotional steps, if the goal was raising awareness and hoping your fans would get excited enough to buy the album. But they didn't always translate to actual sales.
This new method clearly works better for an artist like Jay-Z, who gets a big up-front sales boost. And it may be better for Samsung, which will be able to translate Jay-Z's megastardom into actual, measurable sales. It's clever strategy like this that might help explain why, after years of losing, Samsung is (maybe) beating Apple in the U.S. smartphone wars. If they're smart, the marketing executives in Cupertino are taking notes.