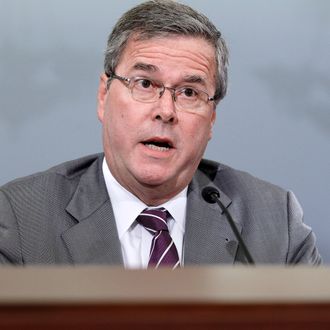 Photo: Chip Somodevilla/Getty Images
With white people dying off, America needs bodies. But as a Republican fighting boldly for immigration reform while eyeing the 2016 GOP nomination, former Florida governor Jeb Bush finds himself in an uncomfortable spot. "Immigrants create far more businesses than native-born Americans over the last 20 years," he argued today, in a speech at the Faith and Freedom conference, before making things more awkward. "Immigrants are more fertile," Bush said, "and they love families, and they have more intact families, and they bring a younger population. Immigrants create an engine of economic prosperity."
Beyond the weird wording, the reception was cold, CNN reports:
Bush's arguments for immigration reform were met with near silence from the conservative crowd Friday, and following his speech the former Florida governor received a polite standing ovation. Comparatively, Rep. Michele Bachmann, who used parts of her speech to decry the bill backed by a bipartisan group of eight senators as "amnesty" for undocumented immigrants, received loud applause.
Note to Jeb: When trying to convince conservatives about the perks of immigration, the impending invasion of foreign babies is not yet a selling point.