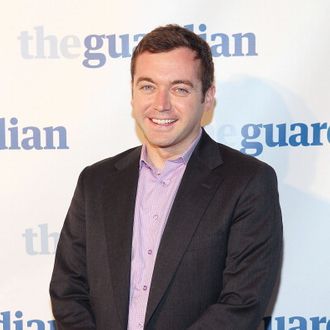 Photo: Paul Morigi/Getty Images for The Guardian
Michael Hastings, the 33-year-old BuzzFeed reporter and Rolling Stone contributor who wrote the blockbuster profile of Gen. Stanley McChrystal that led to McChrystal's resignation, died in a car crash early Tuesday morning in Los Angeles. According to Los Angeles Weekly, he was the sole victim in the single-vehicle crash on Highland Avenue near Melrose Avenue, reported at about 4:25 a.m. His most famous article, "The Runaway General," won the 2010 Polk Award for magazine reporting, but it is hardly the only thing that earned Hastings his reputation for speaking truth to power.
In an eloquent Rolling Stone eulogy, Tim Dickinson wrote that Hastings had no time for the traditional relationships between reporters and those in power: "While other embedded reporters were charmed by McChrystal's bad-boy bravado and might have excused his insubordination as a joke, Hastings was determined to expose the recklessness of a man leading what Hastings believed to be a reckless war."
Hastings "was never afraid to burn a bridge if he thought doing so might help him tell his readers something they needed to know," wrote Max Fisher in the Washington Post, pointing to the time Hastings asked Hillary Clinton aide Philippe Reines in a testy email exchange, "Why don't you give answers that aren't bullshit for a change?"
He was "a dick to those in power. Fearless. Someone who didn't care what others thought of him," Marc Ambinder wrote in The Week, noting that Hastings "was actively disliked by government higher-ups."
"A lot of people in the news business want to seem unafraid," Rachel Maddow said on her show. "Michael Hastings was actually unafraid. To the point where he radiated a sort of energy that made you realize he was unafraid, and it made you treat him differently than other people in the business." She recalled talking to Hastings the night his McChrystal profile dropped, trying to persuade him to leave Afghanistan, but instead he went out as an embed on a patrol.
Hastings is survived by his wife, writer Elise Jordan.