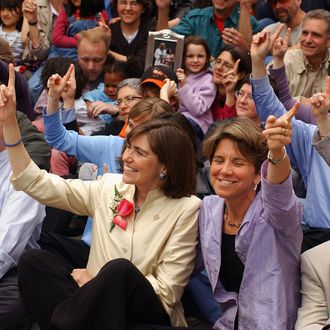 Julie and Hillary Goodridge.
Photo: Darren McCollester/Getty Images
Julie and Hillary Goodridge are no longer married, but the important thing is that they were. As lead plaintiffs in the landmark Massachusetts case Goodridge v. Dept. of Public Health, which became the first state appellate court case to grant same-sex couples marriage rights, the Goodridges served as the faces of gay marriage in this country a decade before Edie Windsor's case challenging the federal Defense of Marriage Act made it to the Supreme Court. They were among the first gay couples in the country to get married, and one of the most notable to get divorced.
In 2001, their case must have felt like a long shot. The Boston couple, whose daughter Annie was then a small child, sued the Massachusetts Department of Health with GLAD's help and waited more than two years before Chief Justice Margaret Marshall wrote in a 4–3 decision, "The right to marry is not a privilege conferred by the State, but a fundamental right that is protected against unwarranted State interference." Annie is now 17 and has studied her mothers' case in history class.
Before and after today's decisions in the historic DOMA and Prop 8 cases — in which the court called for federal recognition of same-sex marriages — the Goodridges spoke to Daily Intelligencer about what it's like to wait for a ruling that will literally change your life, how far we've come, and how far we have to go.
"That we've gotten to this point is amazing," said Hillary, who works as program director of the Unitarian Universalist Funding Program. "It was such a big deal here for three years — a daily, vicious public debate. And then we all got over it."
Hillary and Julie wed in May 2004, six months after the court decided in their favor and as soon as Massachusetts started issuing marriage licenses. It felt like a victory, but the struggle was ongoing. "As with issues in the civil-rights movement, there was incredible backlash," said Hillary. "Three steps forward, one back. But we've all, I think, over the past twelve years [since we filed] shown that we will continue to move forward with grace and dignity and resolve. People still look at Massachusetts and think, Did all hell break loose? Certainly not. Are we all going about our lives ho-hum? Yes!"
For both women, the tension ahead of the Supreme Court decision was reminiscent of 2003, but on a national scale. "When we were waiting for our case to be decided there was this daily drum beat," said Hillary. "And it went on for a really long time: Is it going to be today? Is it going to be today? I remember that feeling of excitement and anticipation and, to a degree, fear. I definitely got some echoes of that starting this month."
"I think it's happened incredibly quickly," said Julie, a money manager, in a separate conversation. "The whole country has started to recognize that inequality, regardless of who it's targeted at, is problematic."
The Goodridges separated in 2006, and divorced three years later, but are on great terms and talk almost every day. "Of course some media seemed to love it," said Hillary of the split, "not noting that we had been together for eighteen years."
Besides, the right to get married includes the right to end it. "Part of the importance of marriage includes divorce and the laws that then govern a breakup," she said. "You can't simply walk away from a married relationship — there are children, custody, financial matters. Having this process overseen by lawyers ensures a fairness that other breakups do not have. Divorce is awful, but the protections it offers, like marriage, are enormous in some cases."
Ever after their breakup, the Goodridges share a place in history together. "I feel tremendous pride in the part that we played in bringing same-sex marriage into the United States of America. I feel really, really, really proud about that," said Julie. "When I see our name on that [case], I still go, 'Oh my God, that's incredible,'" added Hillary. "It's been a huge journey. I know this sounds hokey, but what a privilege to be in this role. I'm so grateful and very honored."

Ahead of today's ruling, Julie ventured an educated guess on what she believed the Supreme Court would do: "I think they're going to throw the California [Prop 8] case back to the lower court decision and allow federal recognition of state-sanctioned same-sex marriage." It turned out she was exactly right but didn't know it until Hillary called her this morning. "Neither my TV or radio is functioning properly," Julie said from Provincetown, Massachusetts, a "gay mecca," in her own words. "Hillary called and said they struck down DOMA." Congratulatory texts and e-mails from friends followed.
"I am thrilled and such a mush that I burst into tears when I read the DOMA decision," said Hillary. "Within ten years we have won the freedom to marry in thirteen states and now have federal recognition. I bet it will not be that long again before all 50 states recognize same-sex marriages."
"The Windsor case was such a beautiful case. To not have a 'skim milk marriage' is amazing," said Julie, citing Justice Ginsburg's memorable line from the oral arguments. "If I marry again, I can take care of my partner and myself. There's a lot more work to be done, but this is a really great thing."
"I wish I could watch television," she added. "Maybe I'll have to go to a bar."