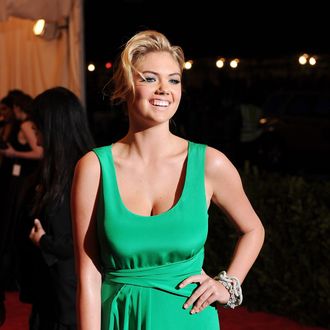 Photo: Dimitrios Kambouris/Getty Images
Two things you may not know about Sports Illustrated swimsuit model Kate Upton: (1) She just turned 21 years old. (2) Her uncle is Michigan congressman Fred Upton. Put those together and you get a recipe for some serendipitous awkwardness. According to the National Journal, your source for all sexy news, the younger, better-looking Upton was in an elevator at a New York City hotel when she recognized the voice of "Uncle Fred," who was on his way to a fund-raiser with House Speaker John Boehner. She joined them, and Boehner sang his signature birthday song while Upton probably practiced her fake smile.
This is Boehner's birthday song, which resembles Marilyn Monroe's rendition not at all:
GOP Whip Kevin McCarthy settled for an Instagram photo. And that's how one of the most famous women currently breathing spent her 21st birthday with some old Republicans. America.