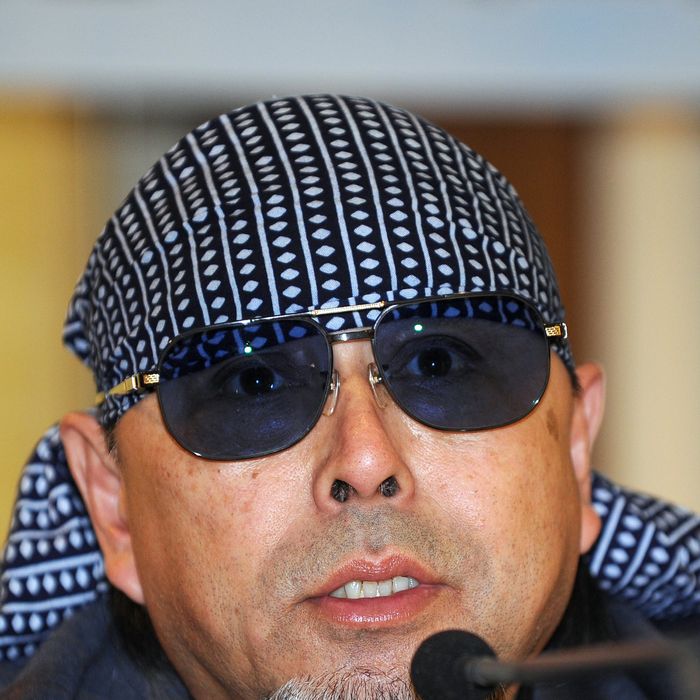 Kenji Fujimoto.
Photo: JUNG YEON-JE/AFP/Getty Images
Kim Jong-il's former sushi chef, Kenji Fujimoto, has a long history of gossiping about his now-deceased boss. But a new GQ profile on Fujimoto is the first time we've heard this anecdote:
>
"Many people envied me because I was a favorite of Kim Jong-il. At the parties, I poured sake for Shogun-sama, but Shogun-sama also poured sake for me, which was very rare. Every time Shogun-sama said to me, Do you like me? I answered, Of course, I like you so much. I was thinking about making a joke—I don't like you, I despise you. I wanted to say that as a joke, but I had no courage. Shogun-sama said, If you like me, why don't you kiss me on the cheek? I don't remember how many times I kissed him. A hundred times? A hundred kisses. We would go to the sauna together, naked. Shogun-sama said, Oh, you have a good body, a masculine body. I said, I'm good at sports. It's not too much to say I was a good playmate for Kim Jong-il. And every time he asked me to kiss his face, he always said to me, If you betray me, you will … Then he would go silent and make a gesture of a knife going into my stomach."
Not that there's anything wrong with that! Except for the stabbing threats — there is something a little bit wrong with that.