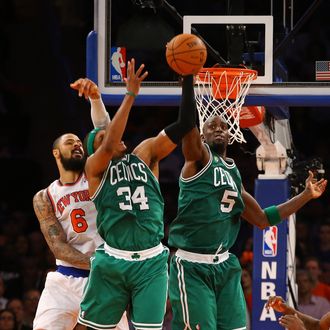 Paul Pierce and Kevin Garnett.
Photo: Al Bello/Getty Images
When the Nets played their home games at the Meadowlands, only about nine miles separated their home arena from Madison Square Garden. When they moved to Newark, all that separated the Knicks' and Nets' home buildings was a commuter train ride. But in all those years, the rivalry between the two teams was hardly white-hot. And so the thinking went that when the Nets moved to Brooklyn, they'd finally become true rivals with the Knicks — battling for New York City supremacy as their respective fan bases developed a sincere dislike of their neighbor across the river.
The thing with rivalries, though, is that they have to happen organically. Yes, there were some spirited crowds last year when the Knicks and Nets met, but that real sense of hatred for an opponent doesn't just happen with a change of address and a new uniform set. That level of animosity must be developed over a period of time. What the Nets did last night, though, totally changes the dynamic of this rivalry.
On a night when Brooklyn drafted Duke's Mason Plumlee and the Knicks selected Michigan's Tim Hardaway Jr., the Nets agreed to send three first-round picks (2014, 2016, and 2018), Kris Humphries, Gerald Wallace, Kris Joseph, MarShon Brooks, and Keith Bogans to the Celtics for Kevin Garnett, Paul Pierce, and Jason Terry. And it's the presence of Garnett and Pierce in Brooklyn that could transform the Knicks-Nets rivalry.
Pierce is a Knicks-killer who seems to especially delight in performing well at Madison Square Garden, blowing kisses to jeering Knicks fans and bowing at center court. And Kevin Garnett only strengthened his villain status in the eyes of Knicks fans once he started talking about breakfast cereal last season.
Once the trade becomes official in July, the Nets will have acquired a pair of players that Knicks fans legitimately don't like. And Nets fans can enjoy the fact that their roster includes a pair of players that drive Knicks fans — and sometimes even Knicks players — crazy. Both Pierce and KG may be past their primes, but they'll still infuse life into this rivalry.
The Nets, essentially, imported bad blood from Boston. The Knicks-Celtics rivalry that had been developing in recent years has suddenly been deflated. Meanwhile, the Knicks and Nets now have real reasons to dislike each other. It's not just the jerseys fans will be rooting against next year; for Knicks fans especially, it'll be the players wearing them.