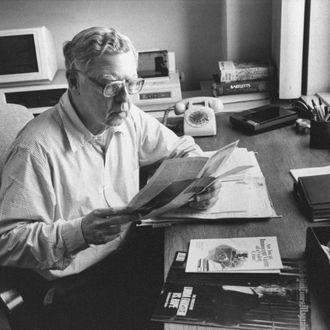 Photo: Marianne Barcellona/Time Life Pictures/Getty Images
Ralph Graves, the last managing editor of the weekly Life magazine, died last week at the age of 88. He was one of the final living connections to the brain trust at Life, the extravagantly budgeted, nationally beloved picture magazine that still serves as a pretty good guide to what interested the mid-century, middle-class American. Graves worked at Life for decades, rising from reporter to articles editor to managing editor (which, at Time Inc., was and is the boss of any given magazine). He was unlucky enough to get the top job in May 1969, when Life was on the ropes — hemorrhaging advertisers, losing gobs of money, overburdened with millions of subscribers accustomed to paying pennies a copy as costs spiraled up. He probably never had a real chance of fixing it, but he kept the fire going for three and a half years, till Time Inc. shut the magazine down at the end of 1972. His wife, Eleanor, worked at Life for nearly as long as he did, and the two were married from 1958 until his death.
If he was proudest of any one issue, he said, it was probably a project called "One Week's Dead": a yearbook-style litany of every soldier who lost his life in Vietnam between May 28 and June 3, 1969. It's a device you've seen a thousand times since then, from the Vietnam Veterans Memorial in Washington to the Times' "Portraits of Grief" after 9/11, but Life did it first — and bravely, because Time Inc., up to that time, had been a hawkish organization. That issue, not Walter Cronkite's famous broadcast, may have been the week when public opinion really began to turn hard against the war.
I know this because I am obsessed with Life. I grew up near a secondhand bookstore that had a basement full of old copies, and would bring home musty-smelling handfuls of them as a teenager, picking them apart, seeing how a great magazine was made. Eventually they led me to a memoir by a longtime Life reporter, a good friend of Graves's named Dora Jane Hamblin. That Was the Life is a loose, funny history told through anecdotes: the crazy machinations to get "the packet" — the envelope full of film and captions containing a story, on deadline, in the days before e-mail — home from the Vatican or the desert. When Winston Churchill died, his funeral fell right up against the magazine's press deadline; Life's solution was to rent a DC-8 jetliner and outfit it with typewriters and a photo darkroom. A small crew of writers, editors, and art directors laid out the magazine over the Atlantic, pausing at JFK to pick up the production staff, and then flew the pages straight to the presses in Chicago. (There were also great morbid interoffice jokes. Hamblin recounted a little improvised play, put on by a couple of editors, the night the Italian ocean liner Andrea Doria was rammed and sunk by another ship called the Stockholm. The staffers played the arguing ship captains, with vaudevillian Italian and Swedish accents, and reproduced the accident by slamming a file-cabinet drawer.) Everyone was having a blast making an exciting magazine, especially on closing nights when the bar was open, and Graves was a true believer who got to run the show. Even with the unhappy ending, it sounded like the best job in the world.
Well, I grew up and tried to get one of those jobs, though they don't quite exist anymore. But we do make a weekly magazine here, and work late on closing nights, and make morbid interoffice jokes off the news, and knock ourselves out trying to get the best picture and the best quote on a ridiculous deadline. Way fewer cocktails, way tighter budget, no custom-built airplanes, but a recognizable facsimile of the same culture.
I never quite met this man who unknowingly led me to my professional life, but I came surprisingly close. A couple of months ago, I was talking to my accountant, Elena, and discovered that she's related to Ralph and Eleanor Graves. As it happens, I published a book last year in which Life magazine makes a couple of appearances, and Elena — without telling me — sent him a copy. Two weeks back, I received an unexpected package in the mail. It was a copy of Graves's memoir, inscribed to me with a kind word about my own book. His is called The LIFE I Led, and it is, of course, full of great yarns, some of which involve encounters with presidents of the United States. My thank-you note to him was on my desk, not yet mailed, when I saw his obituary in the Times. This post will have to do.