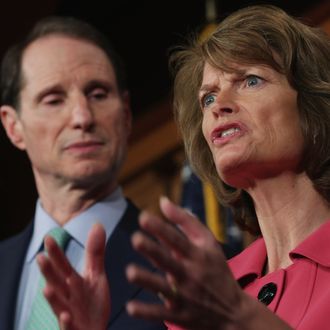 Murkowski.
Photo: Chip Somodevilla/Getty Images
With a local news interview and a heartfelt statement this morning, Alaska's Lisa Murkowski became the third GOP senator to back marriage equality. The announcement does not come as much of a surprise — in April, we predicted Murkowski would declare her support for gay marriage in "the next couple of months." She's always been an independent-minded Republican who frequently votes against the party line, and she'd even already revealed that she was "evolving" on the issue, which typically means a switch is imminent.
Murkowski's announcement will presumably receive less attention than Mark Kirk's, which received less attention than Rob Portman's. But it's worth pointing out that Murkowski is the first Republican senator to support gay marriage while representing a solid-red state. (Kirk's Illinois is decidedly blue, while Portman's Ohio is a Democratically leaning swing state.) While the political risk to Murkowski is probably not terribly significant, the prospect of a backlash from voters is still higher for her than it is for Portman or Kirk. She may be following their lead, but in this way, at least, she's also sticking her neck out more than they did.