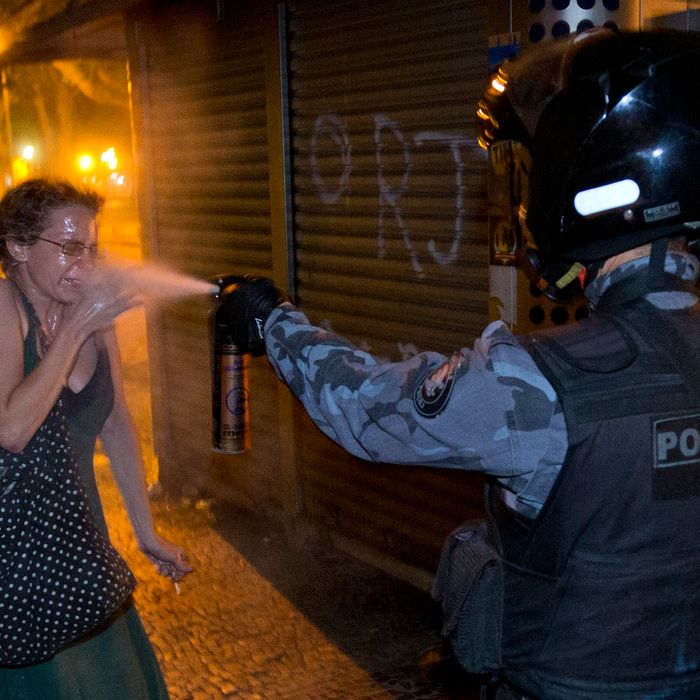 Liv Oliveira gets pepper-sprayed.
Photo: Victor R. Caivano/AP
A photo of a woman being pepper-sprayed at close range by police in Rio de Janeiro on Monday graced the front page of the New York Times and went viral worldwide this week. The identity of the woman was unknown until last night, when she came forward on Facebook.
Liv Nicolsky Lagerblad de Oliveira is a 23-year-old student at Federal University of Rio de Janeiro. She writes (in Portuguese that New York employee Manny Gomes has helpfully translated for us) that she was "unjustly imprisoned" after the photo was snapped. "A type of psychological torture is what happened to me," she writes. "To be able to leave there I had to sign papers which I am not exactly sure what they were." She was also forced to pay a bail of 2,000 reals — or about $885 — which she considers "the ransom for a kidnapping."
Oliveira says that "the police are violent and cruel" and detained people "that were absolutely not vandals," such as "a little girl" who was "arrested for carrying an object that she found in the street." 
Her Facebook statement often reads as a manifesto of sorts. "We should passively resist, but be a bother, because a protest without bother is a protest without a voice," she writes. "The trash of society, what it rejects … is probably what is best about it, what is combative, alive, possibly revolutionary."
Oliveira says her face has become too well known, and her attorney has advised her to lay low. But she encourages others to return to the streets. "I ask all those that can go, to go," she says. "I will fight from here with whatever weapons are at my disposal."
Ultimately, Oliveira hopes that her experience, and her photo, will have a catalyzing effect — that "this situation becomes bigger than any one individual."